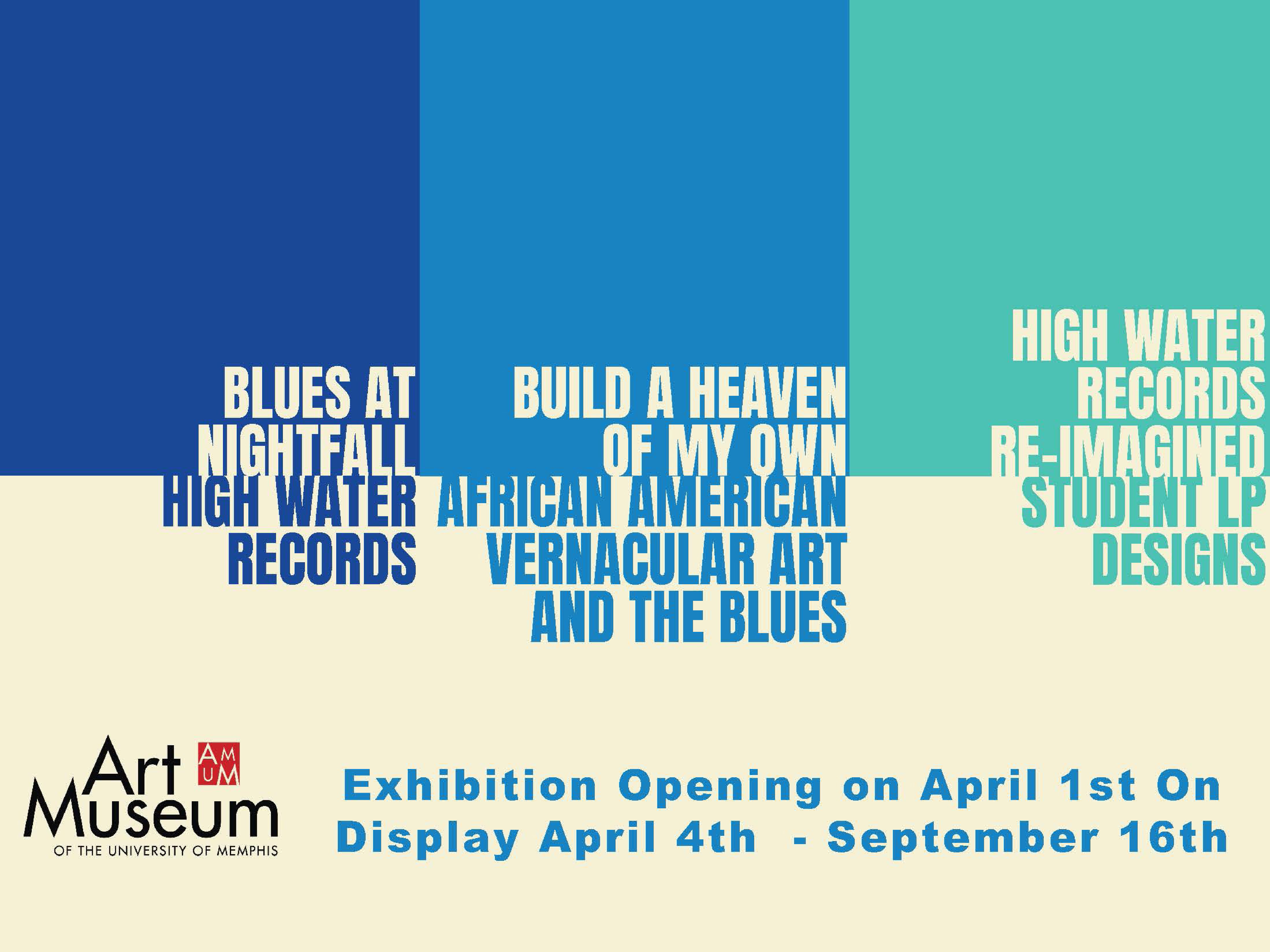 CELEBRATING THE MUSIC AND ART OF THE DELTA BLUES

The Art Museum of the University of Memphis unveils three exhibitions and a website focused on regional blues music and related visual arts on April 1, 2023, 10 AM-4 PM. The exhibitions will be on view through September 16, 2023. A related website will debut as well on April 1. The programs are supported by a grant from University of Memphis Student Activity Fee program.

Build Me a Heaven of My Own: African American Vernacular Art and the Blues
Guest curator: William L. Ellis, PhD, Chair of Fine Arts and Associate Professor of Music, St Michael's College, Colchester, Vermont
This group show explores how the musical and verbal tropes, meaning and context of the blues not only share traits but have informed the visual culture of African American artists from Memphis and the surrounding region. Many of these artists came from a generation when the blues held sway in Black communities of the Deep South, and several of the artists have been equally adept as blues musicians themselves.
Organized in three parts, Build Me a Heaven of My Own considers the craft and folk traditions, self-taught expressions and modern reflections on the blues. It features more than 70 pieces by some two dozen artists and makers, including blues performers from the Delta and Mid-South who made visual art, such as James "Son Ford" Thomas, his son Pat Thomas, Henry and Georgia Speller, Jessie Mae Hemphill and James "Super Chikan" Johnson, as well as artists whose work has channeled the imagery and themes of the blues, including Edwin Jeffery, Jr., Hawkins Bolden, Joe Light, Frank "Preacher" Boyle, Mary T. Smith, Margaret Coleman, Frank Lilly, Sulton Rogers, George Hunt, Frank D. Robinson and Luster Willis.

Blues at Nightfall: High Water Records
Guest curator: John Shaw, U of M doctoral student in musicology

Blues at Nightfall celebrates the legacy of University of Memphis' High Water Records label that, under the leadership of ethnomusicologist Dr. David Evans, documented, recorded, preserved and promoted the Mississippi Delta region's country blues and Black gospel music. Founded in 1979 by Evans and Dr. Richard Ranta, then Dean of the College of Communication and Fine Arts, High Water artists include Jessie Mae Hemphill, R.L. Burnside, Junior Kimbrough, the Fieldstones, the Hollywood All Stars, the King Riders, the Pattersonaires and the Spirit of Memphis. The exhibition includes historic photographic images, film footage, album covers and recorded sound, videos and ephemera.
Online: Blues at Nightfall: High Water Records
Guest curator: Robert Tucker Nance, U of M doctoral student in musicology

The online component provides a deep dive into the artists of High Water Records and highlights many facets of the company's operation from its beginning in 1979 to the present. The site includes biographies and photos of the artists, an interactive timeline with access to each High Water single, LP and CD in order of release, and videos ranging from casual performances and concerts to documentaries and interviews.
High Water Records Re-imagined
U of M graphic design students

AMUM presents 10 digital artworks selected from 36 submissions for new High Water Records LP album covers. Undergraduate students were challenged to research the history and music of High Water and to present design concepts that graphically characterize the individual artists and their work. The three exhibitions, Build Me a Heaven of My Own, Blues at Nightfall and Highwater Records Re-Imagined, debut in the Art Museum of the University of Memphis on April 1, 10 AM to 4 PM as part of the College of Communication & Fine Arts Central to the Arts Festival. The exhibitions continue through September 16, 2023.
The Central to the Arts Festival celebrates the music, theater, film, journalism and fine arts of the U of M and its community partners.
Admission is always free and open to the public Monday-Saturday 9-5.
If you want to look at the full site for the show, click here.
For additional information or directions to the museum, please call Kim Bradshaw at 678-2224.