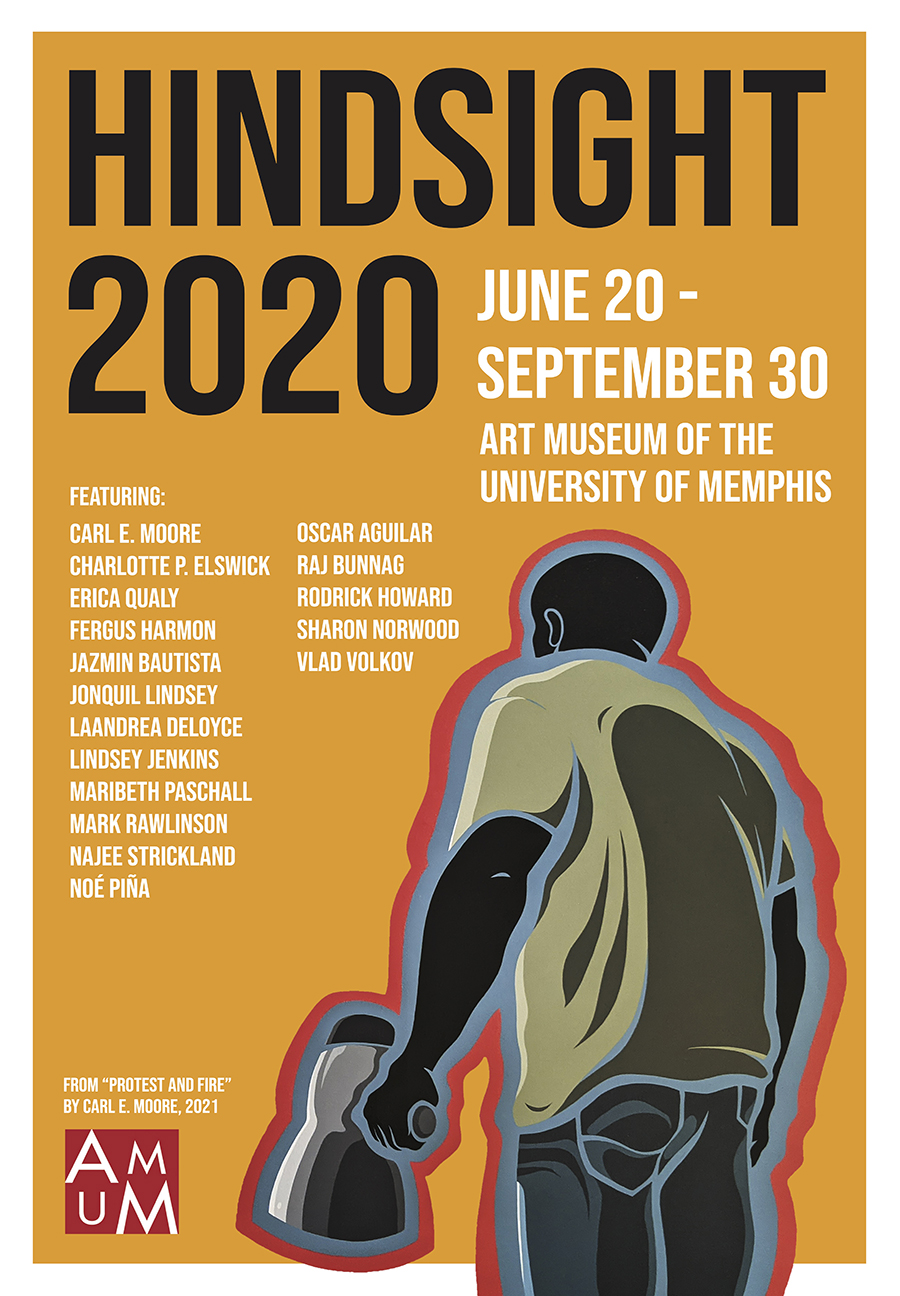 Hindsight 2020 on view June 21-September 30, 2021 / exhibition opening by invitation, June 20th from 3-5pm
View the virtual exhibition website here
4 student curators, 3 professional mentors, 2 student graphic designers, and 1 amazing exhibition. The 100% student-curated and designed exhibition offers reflection on the events of 2020 through the lens of artists of color, LGBTQ+ artists, and other artists with non-traditionally represented identities. In early 2020, cities around the nation issued "Safer at Home" orders in response to the outbreak of COVID-19. Two months later, a Minneapolis police officer murdered George Floyd, spurring a string of protests against racial inequality. These two influential events changed the social and political climate in the United States. Everyone, including the artists featured in this exhibition, felt this change. Lockdown orders aimed to protect the health and safety of those at risk, but many people felt the myriad impacts of social isolation. With the dynamics of life drastically shifting, one's internal experience became paramount. As a result, the events of the past year affected many artists' creative processes and content. The work you will view in this exhibition reflects the shared struggles for community and racial equality during a global pandemic. To begin the healing process, traumatic events require space and time for reflection. This exhibition provides that space for contemplation, commiseration, and understanding. It also stands to commemorate those who lost their lives due to complications associated with the Covid-19 virus, their families, and those who love them.
Featured Artists:
Vlad Volkov
Raj Bunnag
Mari Beth
Carl E Moore
La Andrea Deloyce
Jonquil Lindsey
Sharon Norwood
Lindsey Jenkins
Rodrick Howard
Fergus Harmon
Erica Qualy
Jazmin Bautista
Mark Rawlinson
Charlotte p Elswick
Najee Strickland
Oscar Anguilar
Noe Pina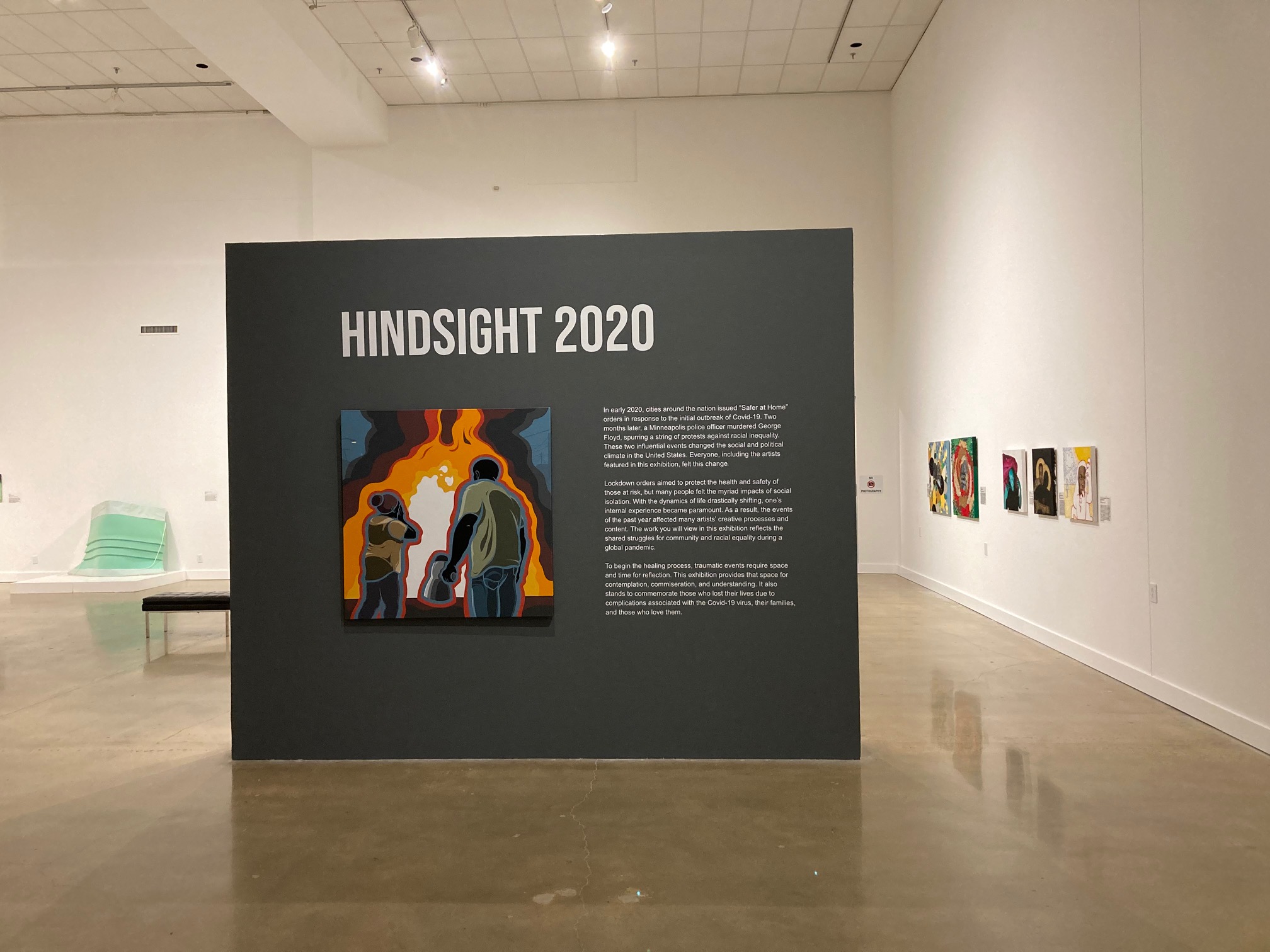 Trip to Crystal Bridges (Photos by Alexis Coleman)
The students involved in AMUM's summer exhibition, "Hindsight 2020," took a trip to Crystal Bridges Museum of American Art in Bentonville, Arkansas to learn more about accessible and inclusive exhibition design.
"It was a fun overnight trip to Crystal Bridges and meeting with Kim Crowell, one of our mentors and Access & Inclusive Programs Manager at Crystal Bridges Museum of American Art. We learned some new things we should know before our exhibit 'Hindsight 2020' at AMUM and got to know each other well throughout the day traveling and sharing our experiences and ideas."
–Preet Parenbhai, Co-Curator of Hindsight 2020

| | | | | | | | | | | | | | | | | | | | | | | |
| --- | --- | --- | --- | --- | --- | --- | --- | --- | --- | --- | --- | --- | --- | --- | --- | --- | --- | --- | --- | --- | --- | --- |
| Crystal Bridges Museum of American Art in Bentonville, Arkansas | | | | | | | | | | | | | | | | | | | | | | |
| | | | | | | | | | | | | | | | | | | | | | | Mentor Kim Crowell, Access & Inclusive Programs Manager at Crystal Bridges, describes a painting for the curators, graphic designers, and other mentors. This method is used to help those with low vision or without vision visualize artwork. At her feet is a box of various fabrics similar to those depicted in the described painting which are shared in order to further help visualize the work. The described painting (not visible due to the angle of the photo) is John Singleton Copley's 1765 work "Mrs. Theodore Atkinson Jr. (Frances Deering Wentworth)" |
| | | | | | | | | | | | | | | | | | | | | | | |
| | | | | | | | | | | | | | | | | | | | | | | |
| | | | | | | | | | | | | | | | | | | | | | | |
| Preet Parenbhai and Erica Vanhaute listen as Kim Crowell discusses another method used to help those with low or no vision visualize artwork. This method uses smaller physical copies of artwork you can touch, which are made using various materials (like fur and wood) similar to what the original painting ("A Tight Fix—Bear Hunting, Early Winter [The Life of a Hunter: A Tight Fix]" by Arthur Fitzwilliam Tait, 1856) depicts. | | | | | | | | | | | | | | | | | | | | | | The mentors, curators, and graphic designers listen as Kim Crowell finishes the accessibility tour as Alexis Coleman photographs everyone (as well as some museum visitors) together. |
| | | | | | | | | | | | | | | | | | | | | | | |
| | | | | | | | | | | | | | | | | | | | | | | |
| | | | | | | | | | | | | | | | | | | | | | | |
| Avery Vanderbilt observes "Au Cafe (Synchromy)" by Stanton Macdonald-Wright (1918) in the Modern Art Gallery. | | | | | | | | | | | | | | | | | | | | | | Hannah Ewing takes in the full scale of Sol Lewitt's mural "Wall Drawing #880: Loopy Doopy". |
| | | | | | | | | | | | | | | | | | | | | | | |
| | | | | | | | | | | | | | | | | | | | | | | |
| | | | | | | | | | | | | | | | | | | | | | | |
| Preet Parenbhai rests in the main entry area after touring the museum. | | | | | | | | | | | | | | | | | | | | | | Erica Vanhaute stops at "Airborn" by Morris Louis (1959) in the Contemporary Art Gallery. |
| | | | | | | | | | | | | | | | | | | | | | | |
| | | | | | | | | | | | | | | | | | | | | | | |
| Precious Jones inspects a piece from the exhibition "Diana Al-Hadid: Ash in the Trade Winds" in the Momentary, a decommissioned cheese factory turned satellite art gallery for Crystal Bridges. | | | | | | | | | | | | | | | | | | | | | | Yancy Villa (mentor) takes a picture of the mentors, curators, and graphic designers outside of 21C, an art museum and hotel, surrounding a concrete suitcase sculpture and bench combination. |
| | | | | | | | | | | | | | | | | | | | | | | |