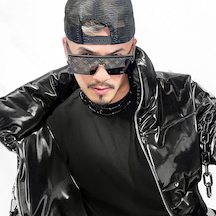 Michael Ngo
Los Angeles-based fashion & pop culture designer, MICHAEL NGO, is known for creating one-of-a-kind pieces that celebrate freedom, sexuality, and strength. Specializing in entertainment fashion & custom designs that embody those sentiments, Ngo's superstar clients such as Jennifer Lopez, Ariana Grande, Lady Gaga, Nicki Minaj, Lil Nas X, Doja Cat, Camila Cabello, and many more can be seen wearing his creations all over the world.
Heavily inspired by Lady Gaga's electric & avante garde fashion, Michael began experimenting with his creativity in in 2011 by designing elaborate costumes to wear to the popstar's concerts which eventually garnered a lot of attention from friends, colleagues and even the Queen of Pop herself. With the growing confidence in his artistry Ngo decided to take a leap of faith and commit to design school in 2012 to unlock this new chapter in his life.
After enrolling at The Art Institutes of California: Los Angeles for Fashion Design and mastering the skillsets of his program, Michael graduated as the Valedictorian of the Fall 2014. A few months after, Ngo showcased his debut runway collection during Los Angeles Fashion Week, which caught the attention of industry professionals & key connections that would jumpstart his career in the entertainment and fashion industry.
Throughout his 6-year career, Michael has impacted the world of entertainment & pop culture fashion by creating iconic looks for many of the world's biggest superstars. With a deep understanding for performance and stage, Ngo has been the go-to designer in Hollywood for an array of clientele & projects ranging from music, film, television, red carpet, press & especially social influencers. But as the world began to shut down in 2020, Los Angeles—the City of Dreams—and the entire entertainment industry came to a halt at the mercy of COVID-19.
As the pandemic began to unfold and nation went into lock down, Ngo wanted to use his time & expertise to give back & help the community. The pop culture designer launched "The REVIVAL Mask Project" featuring star-worthy & limited edition face masks with remnant fabrics from his clients & collections to help raise awareness and funds for the community affected by the pandemic.
During the course of the fundraiser, he raised a total of $45,000 for the LA Food Bank and for various LGBTQ+ organizations such as The LGBTQ Freedom Fund, The Marsha P. Johnson Foundation, and The Trevor Project. It was fundamental & crucial for Michael to use his talent & platform to spread a little fun & joy in a time of need while supporting the community though his designs that truly embody Ngo's artisan and designer spirit.
Throughout his journey Michael been completely floored with the amount of love & support his work has received and is determined to keep fighting for his dreams and relentlessly building the MICHAEL NGO empire in hopes of inspiring new generations of creators and designers to come.