Staff Kudos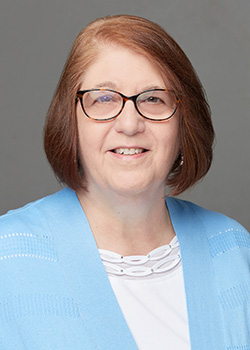 Glynda Luttman, the Administrative Associate for the Department of World Languages and Literatures, is the December 2022 recipient of the Harriet R. Montgomery Service Excellence Award. The University award celebrates staff members who consistently demonstrate a commitment to the highest levels of customer service excellence.
Dr. William Thompson, Associate Professor of French and former Department Chair, said of Glynda: "I have known Glynda since she came to work in our department in 2006, and I was her supervisor during the time I served as department chair from January 2014 through August of this year. Knowing that Glynda would be my 'right-hand person' was in fact a deciding factor when I was considering applying for the position of chair in the department because I know how important it is to have an excellent administrative associate to work with, and Glynda certainly fulfills all of the criteria. If Glynda does not know how something is to be done on campus (and she almost always does), she knows whom to contact or where to find out and does so immediately (sometimes before she is asked). Her knowledge of University policies and procedures is comprehensive, and she does a tremendous job of keeping all of us informed when there are any issues or changes. I do not believe there is anyone in the department who comes asking Glynda for assistance who leaves her office dissatisfied. She is quite simply the 'go-to' person in our department.
Finally, Glynda is a caring and pleasant person to work with. While making sure that the department is functioning well and according to University policies, she is also very much a friend to everyone in the department and helps create a welcoming environment in our main office. In short, I can think of no way in which Glynda is not an asset to our department." All of us in the Department of World Languages and Literatures congratulate Glynda on this honor and thank her for her unwavering and incomparable dedication to the department, her colleagues, and the University of Memphis!
Glynda received the Dean's Outstanding Employee Award in 2018 and recently celebrated a 30 year Career Milestone at the University of Memphis.