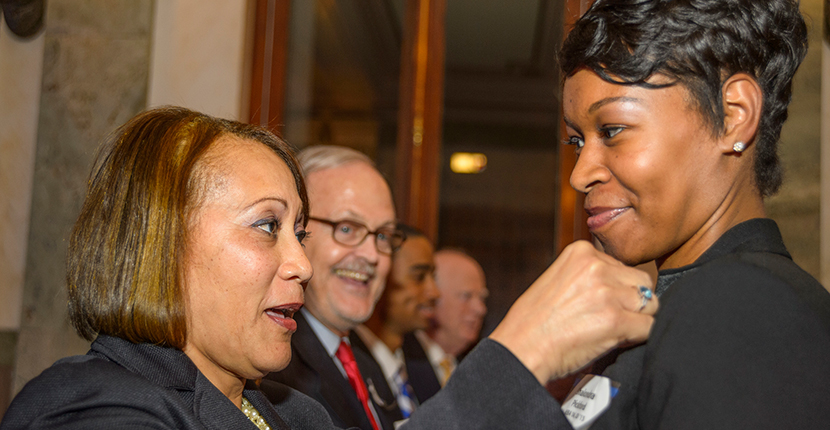 AWARDS & SCHOLARSHIPS
Memphis Law has a number of annual and endowed scholarships and awards that are available for qualified applicants, thanks to many generous donors. These scholarships allow us to attract outstanding students who might otherwise attend our peer institutions.
---
Several of the recipients of the Honorable David S. Kennedy Bankruptcy Achievement Award were at Memphis Law for the Annual American Bankruptcy Institute conference in June 2014. They are pictured above with the founder of the award, Chuck Bullock (JD '95).
Pictured from left:
Max Klein, Brad Reasonover, Whitney Manning, Chuck Bullock, Ross Smith, Robert Reid
---
The Bank Tennessee board members met the 2013-14 scholarship recipient of the BankTennessee John S. Wilder Law School Scholarship at their January 2014 meeting.
Pictured from Left:
James L. Rout, CEO and President of Bank Tennessee; Abigail Mabry, Scholarship Recipient and 3L at Memphis Law; Joel H. Porter, Chairman of the Bank Tennessee Board; Peter V. Letsou, Former Dean and Professor of the Cecil C. Humphreys School of Law.
---
Our increased ability to add to these scholarships and awards will be a determining factor in whether Memphis Law can continue to pursue current areas of excellence and build a national reputation. To discuss how you might endow a scholarship or award, or fund an annual scholarship, please contact Archie Shelton, Director of Development, at (901) 678-4726.