How to Apply for the Social Work Program
Note: Students wanting to change their major to Social Work must apply to the BA Social Work program.
Students must take the required courses before applying: SWRK 2010, SWRK 2911, and SWRK 2011* with a grade of C- or higher. Students can be enrolled in either SWRK 2911 and/or SWRK 2011 upon application.

*Students in Catalog Term (CT) included in or prior to Fall 2017 are not required to take SWRK 2011, but they must adhere to their Catalog Term's requirements for the major. See more about finding Catalog Term here.
What's needed to apply:
U-number
PDF copy of unofficial University of Memphis transcript

Find how to access that here: https://www.memphis.edu/registrar/students/selfserv/transcript-un.php

Screenshots pasted into a Word Document will NOT be accepted. Please "Save As – PDF".

If you have transfer credit from another college/university that is not currently on your unofficial UofM transcript, there is another upload slot to upload that transcript.

Personal Goals Statement (completed as an assignment in SWRK 2011). Students in Catalog Term 2017 and before CT Fall 2017 will need to write the Personal Goals Statement by themselves before submitting their BA application using the following guide:

The Personal Goals Statement should be approximately three (3) pages long, typed, double-spaced, utilizing citations and references if/when needed within the essay, and providing the following information:

Your work and volunteer experience
The important facets of your identity and the people and experiences that have made important contributions to your identity
Your personal strengths that you believe will assist you in becoming an effective social worker
The limitations that will challenge you as you seek to become an effective social worker and how you will overcome those limitations
The values that are important to you and how they complement the values of the social work profession
Your short term (5-year) and your long term (more than 10 years) professional career goals

Additional writing sample. Literature review or research-based paper preferred; can be from any college-level class.

There is a spot under the upload slot to describe your writing sample. Please be sure to include the course name, assignment name/document title, and semester + year written. Ex. SWRK 2011 – Literature Review – Fall 2018.
Go to https://myuofm.memphis.edu/ and log in. Then, go to the Student tab.
From the Student Tab, go to Banner Self Service (looks like folders). Select the Student folder. Then select Student Records. Under Student Records, select View Student Information.
From the next screen, select the term that comes up (mine shows Spring Term 2019). Click Submit.
From the next screen, you will see your General Student Record. This will show you what Catalog you are on.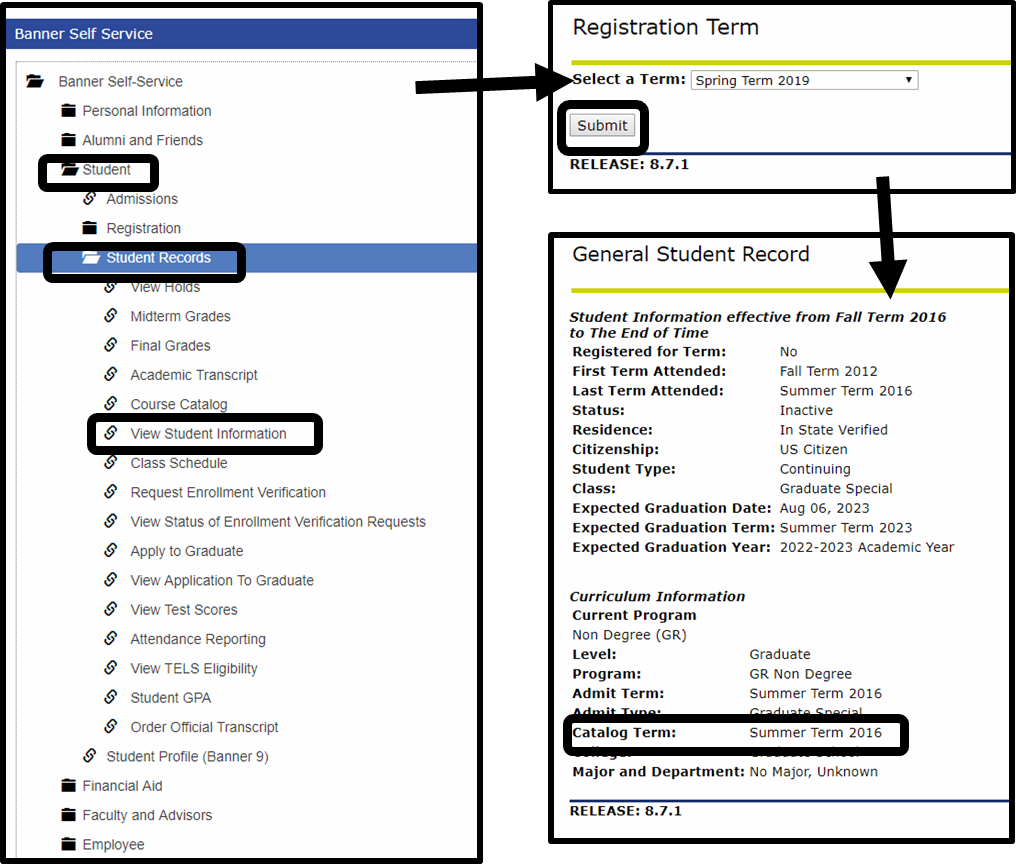 Application process:
Apply online

Students enrolled in SWRK 2011 that have already taken or are currently taking SWRK 2911 and SWRK 2011 concurrently are encouraged to apply immediately upon completion of the Personal Goals Statement.
Students that fall in the category of not being required to take SWRK 2011, apply while enrolled in SWRK 2911 (but will need to write the Personal Goals Statement on their own).
Access the online application here: https://memphis.co1.qualtrics.com/jfe/form/SV_eCWseMJgKg9kP6l

Completed applications are passed out to BA faculty members for review during a faculty meeting (typically a month after application is completed, depending on time of year)
Application is reviewed by at least 1 BA faculty member, and then by the BA program director

If more information is needed, or there is a concern with your application, you may be called to the BA program director's office for a meeting

Upon final decision, BA program director will email with notification and next steps