Case Study: A Fayette County Student and Activist
Georgia McFerren
| | |
| --- | --- |
| Georgia McFerren, Graduation 1970. Source: from G. McFerren's personal collection. | |
At the time of this interview, Georgia McFerren was an energetic 57-year-old African American woman, retired after 32 years of working with mentally ill children for the Arlington Developmental Center in Shelby County.
She was interviewed at her home in Fayette County in her trim, yellow-sided house with black shutters—not too far from her younger sister, Eva.
The McFerren sisters, daughters of Howard and Ella McFerren, grew up in a family of 13 children, farming on property owned by one of the few African American landowners then, James Cartwright. This was to prove providential later, when many black sharecropper families were kicked out of their homes after they registered to vote. Many ended up living in Tent City. Georgia's was one of the few fortunate black families who were not displaced during that period.




"School Monday through Friday, marching on Saturday, and church on Sunday..." Georgia McFerren's description of her teen years.
Despite that stability, the girls endured their share of suffering. In 1965, Georgia was in the 8th grade and along with Lucy Hunt, Gloria Murrell, and Pearlie Gilchrist, joined in with the first class of black students to integrate Somerville Elementary School.
By the time Georgia graduated high school in 1970, she noted, "there were nine black students out of 94 in my senior year—one boy and eight girls—but many of the white students had moved to the [Fayette] Academy."
By 1965, the all-black W.P. Ware High School and all-white Fayette County High School were court-ordered to merge, resulting in Fayette-Ware Comprehensive High School, which exists today.
The Fayette County High School graduating class of 1970: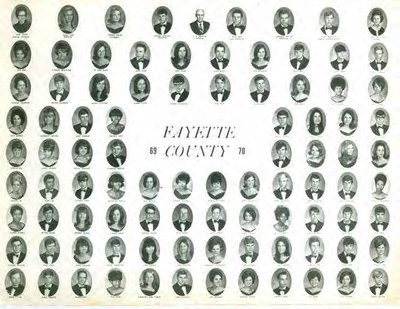 Source: photos, G. McFerren/personal collection.
Click here or image for larger view and list of names. Courtesy of Fayette-Ware Comprehensive High School Librarian, Blanche Hamilton.