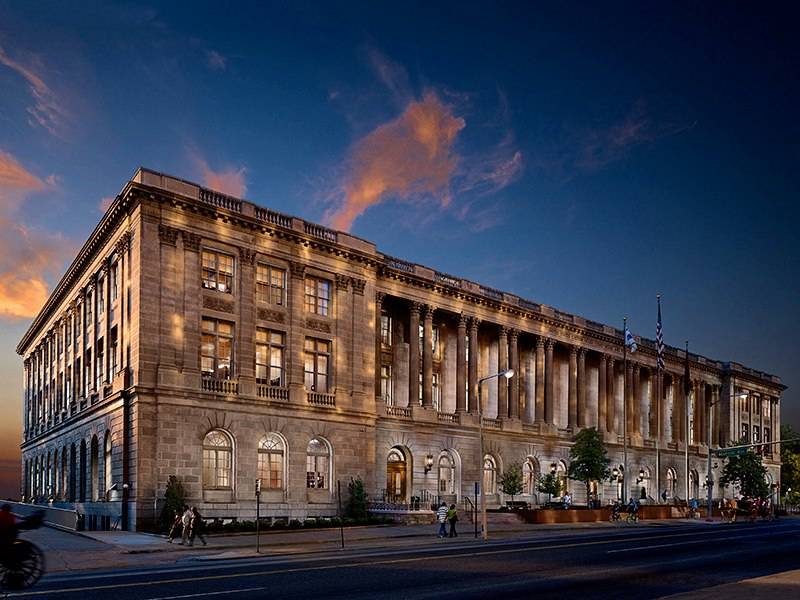 Cecil C. Humphreys School of Law
In January 2010, the Cecil C. Humphreys School of Law moved to its 125 year old facility that has served as a U.S. Custom House, Court House, and Post Office over a 125 year span. The building was placed on the National Register of Historic Places in 1980.
Constructed in the 1880s, the original building reflected the Italianate Revival style, had four floors, and was considered one of the most beautiful buildings in the South. The building grew along with downtown Memphis. During several projects, limestone was added to the exterior of the building, and marble was added to the interior. While the Custom House and Federal Court relocated, the Post Office maintained some offices in the building until the law school renovation began in early 2008.
Architects discovered and restored beautiful woodwork and intricate, hand-painted stencil designs. Wainscot paneling was repaired and relocated to various parts of the building. Original plaster decorations were restored, such as those on the ceiling in the historic courtroom.
The 169,000-square-foot building now functions as a state-of-the-art, 21st-century learning environment, complete with wireless Internet access, an open and accessible law library, and all the comforts of a modern, high-tech facility. Despite the renovations, the building retains much of its historic look.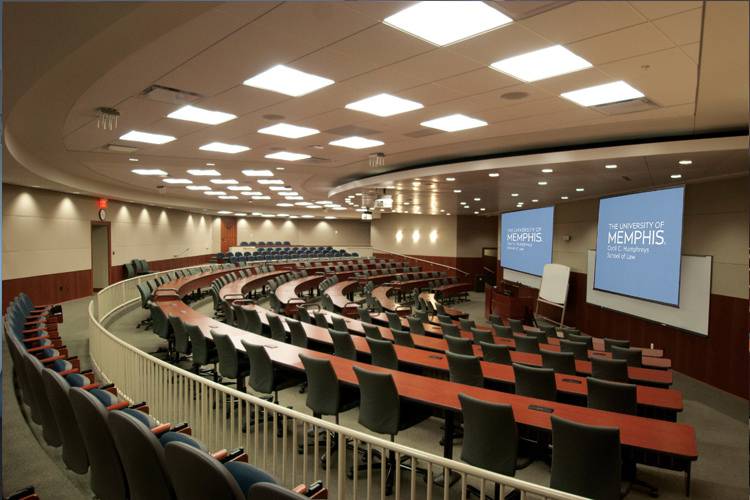 Facility Facts:
$42 million renovation to transform building to state-of-the-art legal education facility.
Original Tennessee marble, still in place today, inspired the color scheme throughout the historic building.
24-hour Security: Students have 24/7 card access to the building.
The Plough Foundation Law Library: five floors, including a rare book room.
"Smart Classrooms" include the ability to podcast, individual electrical outlets for each student for laptop use, and stadium seating.
The architect, Bill Nixon, calls the Gordon Ball Scenic Reading Room the "jewel box" of the building because it features windows that stretch for 200 feet and offers an unmatched view of the Mississippi River.
Space Capacity Chart
ROOM
SQUARE FEET
CLASSROOM
CONFERENCE
First Floor
Room 136 - Wade Auditorium
4520
275
Room 127 - Classroom
1140
35
Main Lobby
4965
Student Lounge
5526
Second Floor
Room 226 - Classroom
2522
90
Room 230 - Boardroom
1154
36
Room 231 - Conference Room
399
12
Room 233 - Classroom
611
24
Room 244 - Classroom
2525
90
Third Floor
Room 310 - Moot Court Room
928
Historic Moot Court Room
1676
95
Room 325 - Classroom
1837
85
Room 326 - Classroom
1840
85
Fourth Floor
Reading Room
4899

Contact us for pricing and booking information.