Mission & Goals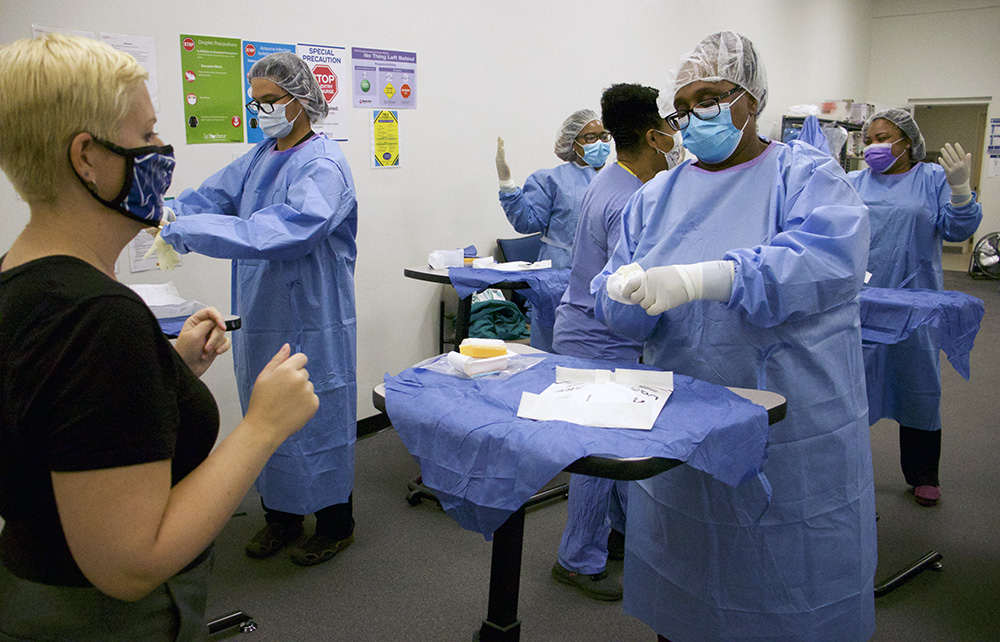 The Surgical Technology program prepares competent entry-level surgical technologists in the cognitive (knowledge), psychomotor (skills) and affective (behavior) learning domains. Students develop knowledge to integrate the surgical technology knowledge base in all of these domains. The curriculum design is based on the core curriculum in which major concepts of surgical technology form the foundation. Clarity is given to the major concepts through sub-concepts as they relate to the practice of surgical technology. These concepts are integrated throughout the curriculum and include assessment, reactive intervention, communication skills, critical thinking and professionalism.
Mission
The mission of the Surgical Technology program is to provide didactic and clinical instruction that will allow students to perform as competent, entry-level surgical technologists in the cognitive, psychomotor and affective learning domains; and to fill the need for surgical technologists in all local and regional communities.
Goals & Objectives
After completing the Surgical Technology program, the student should be able to:
integrate the Surgical Technology knowledge base in the cognitive, affective and psychomotor domains.
skills following established criteria, protocols, and objectives in the cognitive, affective and psychomotor domains.
apply basic scientific principles related to anatomy, physiology and pathophysiology for safe transfer, positioning, prepping and draping of the surgical patient.
apply knowledge of interpersonal skills and communications relative to procedures and protocols from a surgical technologist's perspective when working with patients, colleagues and other members of a healthcare team.
apply principles of asepsis in an operating room setting.
demonstrate appropriate use and care of basic and specialty instruments and supplies.
describe the essential working aspects of a successful surgical technologist.
recognize the importance of confidentiality when dealing with surgical patients.
develop a familiarity with commonly used surgical instruments in various procedures.
analyze and adapt to the ever-changing operating room environment.
perform practical proficiency in the surgical suite with an understanding of the basic procedures involved.
demonstrate the ability to perform in a healthcare environment while meeting OSHA regulations.
demonstrate effective communication and decision-making skills for successful performance in the surgical environment.
demonstrate the ability to work under pressure and stress, including the ability to keep composure and think critically.
use the knowledge of personal and medical ethics in the surgical setting.
apply, establish and maintain high standards of aseptic technique at all times.
apply surgical technology functions within the healthcare setting by providing clinical and administrative skills in a surgical environment.
apply a strong work ethic through reliability and dependability, time management skills, teamwork and communication skills.
Faculty Goals:
To prepare students to function in a safe, effective, and efficient manner as a surgical technologist
To provide students with a foundation of basic science and various subject matters unique to the operating room to allow them to utilize critical thinking skills in various circumstances (cognitive).
To instruct students and refine their practice in the necessary manipulative skills that will enable them to function as a surgical technologist (psychomotor).
To teach students the concept of personal responsibility and accountability for their actions in the operating room while functioning as a part of the healthcare team (affective).