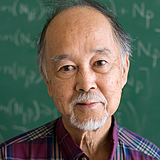 Seok Wong
Emeritus Professor
Dr. Seok Pin (Tim) Wong (September 14, 1939 - October 9, 2017)
It is with great sadness that the Department of Mathematical Sciences announces that Dr. S.P. Wong, a retired Professor of Statistics, passed away in Memphis, TN, on October 9, 2017, age 78. He is survived by his wife of 48 years, Patricia, and daughters Eleau (Jonah), Laurana, and Kristina.
He grew up in Malaysia and came to America as a young adult. He received his US citizenship in the 1970s. He earned his M.S. from the University of Delaware in 1962 and his PhD from the University of Illinois, Urbana-Champaign, in 1967. In 1965 he joined the University of Memphis, where for 45 years he was a Professor of Statistics in the Department of Mathematical Sciences. He was very active in research, with a sizable record of influential publications. He directed numerous M.S. and Ph.D. theses. In particular, his research publications with the medical community had great impact and is highly cited. One of his papers received over 3,760 citations.
He is remembered as a beloved mentor, an unfailing provider, and a respected member of the community.
Generous, loving and optimistic, Dr. Wong spent a life dedicated in helping and guiding the people, in particular many students, around him. He positively affected many lives during his tenure at the University of Memphis. Many of his students went on to pursue successful professional careers.
Students, former students, colleagues and friends of Dr. Wong have established an award for graduate students in Statistics, the details of which are posted on the web-site of the Department of Mathematical Sciences. It will be called the Dr. S.P. Wong Award in Statistics, to be given annually to up to four students in Statistics.