2019 Willard R. Sparks Eminent Faculty Award
The Willard R. Sparks Eminent Faculty Award is the highest distinction given to a faculty member by the University. The award is given annually to one faculty member who has made outstanding and sustained contributions to scholarly creative activity, teaching and service, bringing honor and recognition to the University.
Aram Goudsouzian, PhD
Distinguished Professor & Chair, Department of History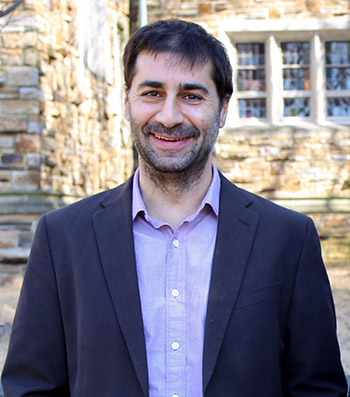 Aram Goudsouzian is a Professor of History at the University of Memphis. A historian of the twentieth-century United States with a particular focus on race, politics, and culture, he is the author of five books: The Men and the Moment: The Election of 1968 and the Rise of Partisan Politics in America (University of North Carolina Press, 2019); Down to the Crossroads: Civil Rights, Black Power, and the Meredith March Against Fear (Farrar, Straus, and Giroux, 2014); King of the Court: Bill Russell and the Basketball Revolution (University of California Press, 2010); The Hurricane of 1938 (Commonwealth Editions, 2004); and Sidney Poitier: Man, Actor, Icon (University of North Carolina Press, 2004).
He is also the co-editor, with Charles McKinney, of the essay collection An Unseen Light: Black Struggles for Freedom in Memphis, Tennessee (University Press of Kentucky, 2018) and the editor of Karnig Panian's Goodbye, Antoura: A Memoir of the Armenian Genocide (Stanford University Press, 2015). His essays and journal articles have analyzed essential figures of American history including James Meredith, Babe Ruth, Wilma Rudolph, Wilt Chamberlain, Sidney Poitier, and Bill Russell.
Goudsouzian earned his BA from Colby College, his MA in History from the University of Massachusetts-Amherst, and his PhD in History from Purdue University. He came to the University of Memphis in 2004. He has just finished his six-year term as the Chair of the Department of History. Prior to that, he was the Director of the Marcus W. Orr Center for the Humanities. He is the co-editor with Jaime Schultz of the Sport and Society Series at the University of Illinois Press and a frequent contributor of book reviews and author interviews to Chapter 16, the publication of Humanities Tennessee. He often reviews books for the Washington Post, and his writing has appeared in Salon.com, Al Jazeera, Quartz, the Memphis Commercial Appeal, and The Daily Memphian.