Major in Communication Studies Online
Our online major teaches flexible knowledge and skills that transfer to a variety of settings. We are committed to preparing you not only for a career, but a lifetime of learning—all from the comfort and safety of your own home.
Our focus areas allow you to explore your interests in communication in depth. Whether you want to learn how people form relationships and work in groups (Professional & Relational Communication), how citizens and politicians argue and advocate to solve problems and advance causes (Rhetoric & Public Advocacy), or how film, television, and new media shape our identities and society (Media & Society), we have a course of study just for you!

Contact Dr. Alexander Morales for an online advising session today!
Visit U of M Global for more information.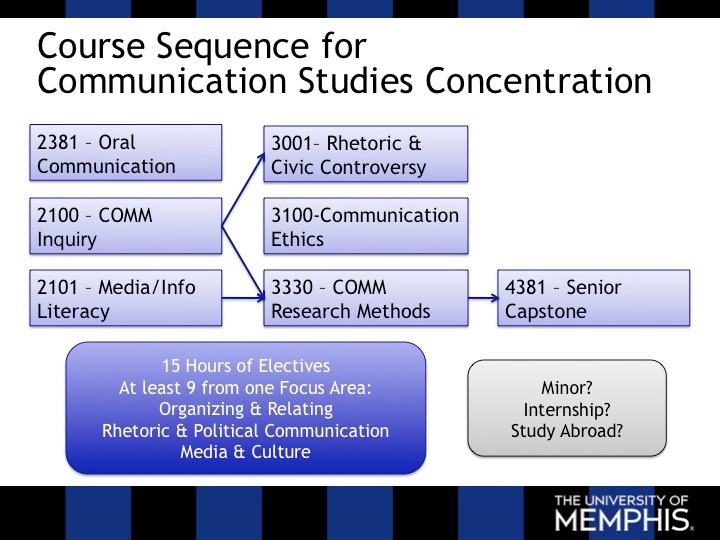 COMM 2381 – Oral Communication Credit Hours (3) Description: Principles and practices of public speaking using live and mediated formats; emphasis on researching, analyzing, writing and delivering effective spoken messages with appropriate visual support in informative persuasive settings.
COMM 2100 – Communication Inquiry Credit hours (3) Description: History and development of the discipline of communication; emphasis on rhetoric, social science and media; theories and models of communication. Examine definitions and models of the communication process and focus on the development of major theories in the discipline with a particular emphasis on how these theories apply to everyday life.
COMM 2101 – Media and Info Literacy Credit hours (3) Description: Critical examination and analysis of media and information products, focus on mediated construction of meaning and assessment of credibility online and in traditional mass media; basic research skills necessary to complete academic projects successfully.
COMM 3001 – Rhetoric/Civic Controversy Credit Hours (3) Description: Introduction to history and practice of rhetoric as the art of civic engagement in a democracy, focus on key terms, ethical assumptions and interpretative tools of rhetoric study; analysis of contemporary and historical cases in focal and national controversy.
COMM 3100 – Communication Ethics Credit Hours (3) Description: Exploration of principles, theories, and philosophical approaches to ethics of human communication; emphasis on decision-making, critical thinking and awareness of personal responsibilities as a sender and receiver of messages.
COMM 3321 – Argumentation and Advocacy Credit Hours (3) Description: Theories of argumentation with an emphasis on developing skills in analyzing, reasoning and using evidence in political advocacy. Students will learn the role of advocacy, debate and deliberation in public decision making. PREREQUISITE: COMM 2301
COMM 3330 - (4) Examination and application of qualitative and quantitative methods of research. Three hours of lecture, one hour of laboratory per week. PREREQUISITE: COMM 2100 and COMM 2101.
COMM 4381 – Senior Capstone Credit Hours (3) Description: Synthesis and extension of knowledge in communication studies; demonstrated integration of learning and positioning to move on as individuals, citizens and/or professionals. Students will create a portfolio representing past course projects as well as carry out a capstone research project. PREREQUESITE: COMM 3330 and senior standing or permission of instructor.