Civil Rights Strategy
Black Activists Expose White Retaliation, Gain International Support, and Pursue an Aggressive Civil Rights Strategy
Almost immediately after the evictions began, John and Viola McFerren, and June Dowdy, a Black man who later ran unsuccessfully for tax assessor in 1964, began publicizing the plight of Tent City residents, raising funds, and obtaining food and clothing. Ted Poston, an African American reporter from the New York Post, helped to break the story to the nation about the deprivations Blacks faced by conducting investigations about the registration efforts and reprisals. The inhumane treatment and denial of basic civil rights to Fayette County blacks eventually received extensive coverage in both the national and international press. Many in the United States and abroad expressed outrage that blacks were being retaliated against for exercising their right to vote.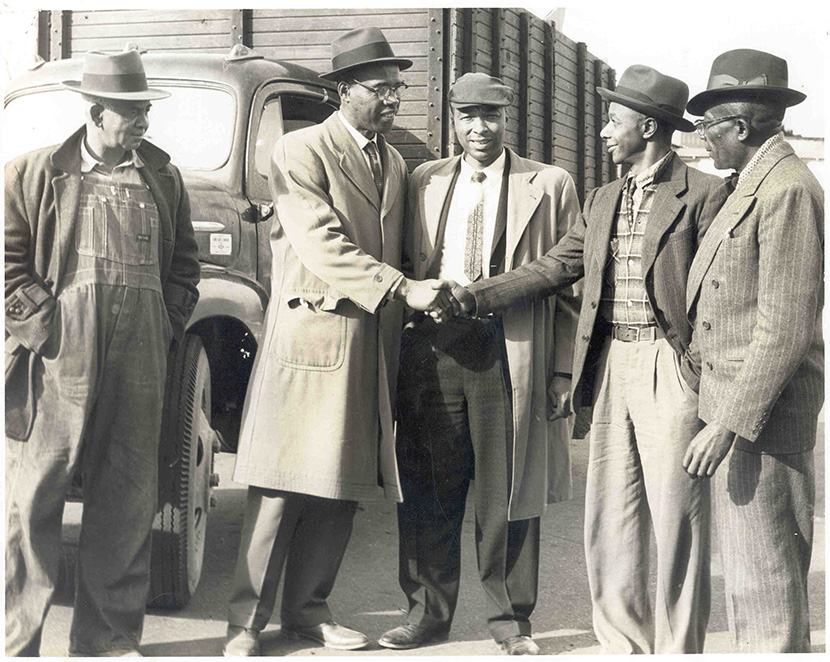 Photo on left: Viola McFerren (second from right) with reporter, Ted Poston (holding note pad), circa 1960. Photo on right: Center, June Dowdy and John McFerren. ©Dr. Ernest Withers, Sr. courtesy of the Withers Family Trust
Viola McFerren on How Tent City Gained National Attention
2002 documentary project on Fayette County, TN: Special Collections, University of Memphis Libraries.
John and Viola McFerren took to the road to expose the plight of blacks in Fayette County. Fundraising efforts and food drives for residents of Tent City and other blacks in need took place in various cities throughout the nation. James Puryear, a long distance truck driver and Fayette County resident, volunteered to drive his truck across the country to collect donated food and clothing that would be distributed among those living in Tent City and others in need.
| | |
| --- | --- |
| | ©Dr. Ernest Withers, Sr. courtesy of the Withers Family Trust |
In 1961, a dispute among the League's leadership about the fair distribution of donated money, food, and clothing, created a split among the original incorporators, and among Estes and the McFerrens and their supporters. This division resulted in the formation of a second organization, The Original Fayette County Civic and Welfare League (OFFCWL). John and Viola McFerren, John Lewis, Levearn Towels, Noah McFerren (John's brother), Shephard Towles and Roy Brown were the incorporators. The OFFCWL entered the 1960s with an aggressive civil rights agenda: to increase voter registration among African Americans, to elect officials responsible to the community, to improve the welfare of blacks through education and training, and to dismantle barriers to African Americans' access to credit and decent employment.
There is some evidence that some Fayette County whites were sympathetic to the demands of Black activists, but there are few examples of local whites who, at the time, openly opposed the oppression of blacks. Farmer L.T. Redfearn ran for sheriff in August 1964 with the support of the African American community and as a result lost his influence in the white community. O.M. and Sara Lemmons, local business owners in Stanton, Tennessee (located in Haywood County but bordering Fayette County), openly resisted pressure by whites to exclude Blacks from their businesses. In response, whites boycotted the Lemmons' businesses and discouraged vendors from providing them with supplies, which eventually forced the Lemmons to close.
On August 16, 1969, Black activists organized a boycott of white merchants in Somerville (the county seat of Fayette County) to protest the beating of Priscilla Hobson and her daughters, Vernell and Vester, by two white men, Julian Pulliam and his son, Gerald. Reporting on the stalemate between Blacks and whites in ending the boycott, the Memphis Press Scimitar, in a September 25, 1969 article, suggested that some whites were sympathetic to the demands of Black activists. "We [merchants] can't make the county and city governments act," and "We tried to apply pressure once, but it didn't do any good." Generally, however, the historical record includes little documentation of the activities of whites who might have supported the demand of African Americans for civil rights in Fayette County during the late 1950s and 1960s.