Recently Published Faculty Research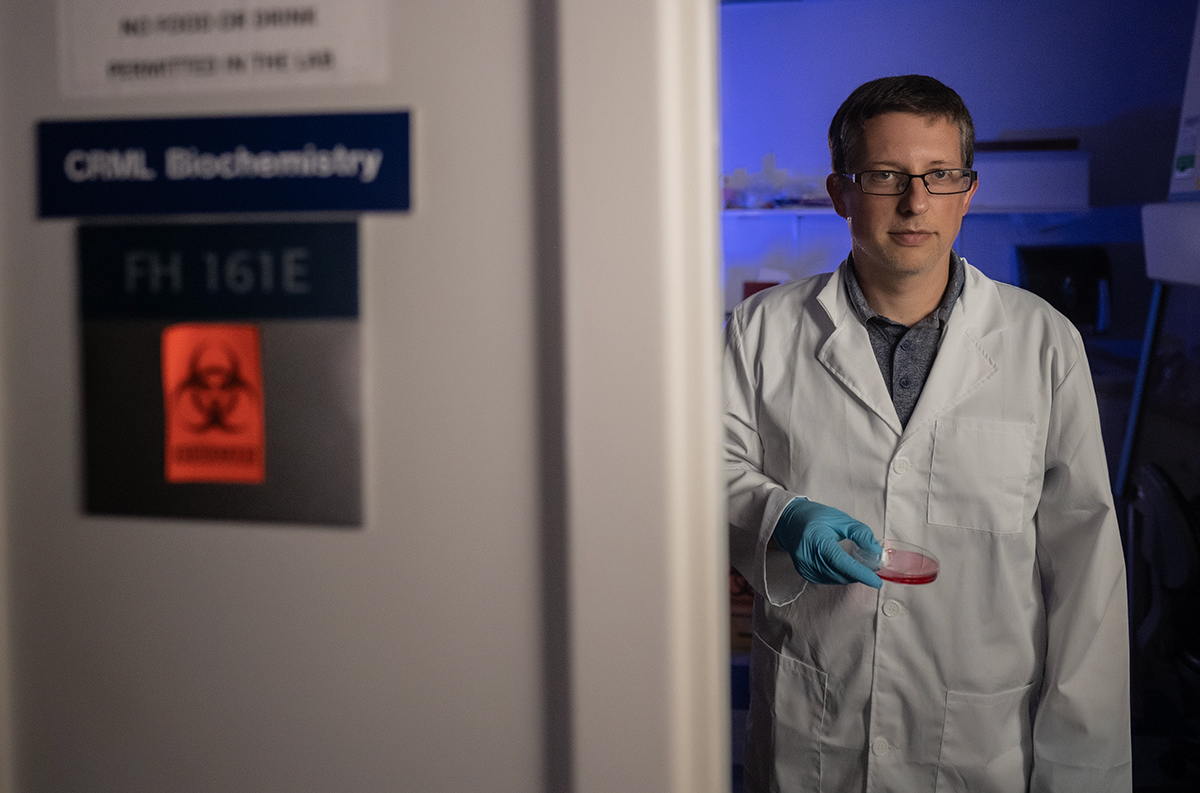 Dietetics/Nutrition
Impact of Feeding Time and Duration on Body Mass and Composition in Young, Exercising Mice
Richard J. Bloomer, Marie van der Merwe, Melissa J. Puppa, Matthew Butawan
The dietary supplement Cyplexinol® alleviates joint pain in men and women.
Jacquelyn Pence, Michelle Stockton, Richard J. Bloomer
Weight Loss and Improved Metabolic Health Meas-ures Using a One-Week Active Nutrition Jumpstart Program in Overweight and Obese Men and Women.
Richard J. Bloomer, Jacquelyn Pence, J. Davis, Michelle Stockton
Alpha Hope, via Molecular Hydrogen and Pyrroloquinoline Quinone, Dose-Dependently Increases Nrf2 and PGC-1α Levels in C2C12 Myoblasts.
RJ Bloomer, Y. Zhan, Y. Shirazi, C. Okegbe, J. Pence, K. Martin, J.Q. Timmcke, T.W. LeBaron
A topical botanical ointment relieves joint pain in men and women with hip and/or knee pain.
RJ Bloomer, JC Pence, R Morris Jr., M Stockton, A Signaigo
Caffeine and Methylliberine: A human pharmacokinetic interaction study.
G Mondal, YH Wang, Z Cathings, M Butawan, RJ Bloomer, CR Yates
The effects of intermittent fasting on markers of health: A narrative review
Maha Gasmi, Ruth Williams Hooker (CHS Professor Emeritus), Ghazwa Ben Maaouia, Anis Ben Chikhad
Fasting Protocols Do Not Improve Intestinal Architecture and Immune Parameters in C57BL/6 Male Mice Fed a High Fat Diet
Raed Y. Ageeli, Sunita Sharma, Melissa Puppa, Richard J. Bloomer, Randal K. Buddington and Marie van der Merwe
Tart Cherry Juice Reduces Plasma Triglycerides and CVD Risk Factor, But Does not Affect Indirect Measures of Insulin Resistance, in Overweight and Obese Subjects: A Randomized, Crossover Pilot Study
Keith R Martin, Jennifer Bopp and Lacey Burrell
Senescent macrophages alter fibroblast fibrogenesis in response to SARS-CoV-2 infection
Brandt Pence, Yufeng Zhang, Ivy Antwi and Theodore James Cory
Nitrate and human health: An overview. In: Nitrate Handbook: Environmental, Agricultural, and Health Effects, Advances in Trace Elements in the Environment
Martin, K.R. and Bloomer, RJ.
Impact of AmaTea® Max on physiological measures and gaming performance in active gamers: A placebo-controlled, double-blind, randomized study
Richard J. Bloomer, Keith R. Martin, Jacquelyn C. Pence
---
Exercise, Sport & Movement Sciences
Increasing breast support is associated with a distal-to-proximal redistribution of joint negative work during a double-limb landing task.
Hailey B. Fong, Alexis K. Nelson, Deirdre McGhee, Kevin Ford, Douglas W. Powell
Increasing breast support is associated with altered knee joint stiffness and contributing knee joint biomechanics during treadmill running
Douglas W. Powell, Hailey B. Fong and Alexis K. Nelson
Influence of dynamic stretching on ankle joint stiffness, vertical stiffness and running economy during treadmill running
George M. Pamboris, Marika Noorkoiv, Vasilios Baltzopoulos, Douglas W. Powell, Tom Howes and Amir A. Mohagheghi
Greater Breast Support Alters Trunk and Knee Joint Biomechanics Commonly Associated With Anterior Cruciate Ligament Injury
Hailey B. Fong, Alexis K. Nelson, Julie E. Storey, Jay Hinton, Melissa Puppa, Deirdre McGhee, Daniel Greenwood and Douglas W. Powell
Selection of Noninvasive Features in Wrist-Based Wearable Sensors to Predict Blood Glucose Concentrations Using Machine Learning Algorithms
Brian Bogue-Jimenez, Xiaolei Huang, Douglas Powell and Ana Doblas
Detection of foot contact in treadmill running with inertial and optical measurement systems
Reenalda J, Zandberger MA, Harbers JD, Paquette MR, Milner CE
Monitoring gait complexity as an indicator for running-related injury risk in collegiate cross-country runners: A proof-of-concept study
Gruber AH, McDonnell J, Davis JJ, Vollmar JE, Harezlak J, Paquette MR
Changes in training, lifestyle, psychological and demographic factors, and associations with running-related injuries during COVID-19
Holmes HH, Monaghan PG, Strunk KK, Paquette MR, Roper JA
A high fat western diet attenuates phasic dopamine release
Mary K. Estes, Jasric J. Bland, Kenya K. Ector, Melissa J. Puppa, Douglas W. Powell, Deranda B. Lester
Effects of Feeding Time on Markers of Muscle Metabolic Flexibility Following Acute Aerobic Exercise in Trained Mice Undergoing Time Restricted Feeding
Aaron Persinger, Matthew Butawan, Martina Faietti, Ashley Pryke, Kyley Rose, Marie van der Merwe, Richard J. Bloomer, and Melissa J. Puppa
---
Physical Education Teacher Education
Investigating middle school students' physical education emotions, emotional antecedents, self-esteem, and intentions for physical activity.
Kelly E. Simonton and Todd E. Layne
Toward the virtuous mover: a neo-Aristotelian interpretation of physical education
Jamie Jacob Brunsdon
Flourishing through The Spectrum: Toward an affective-oriented composite pedagogical model?
Jamie Jacob Brunsdon
Teacher perspectives on the Tennessee student growth measures in physical education.
Layne, T., Irwin, C., & Simonton, K.
Motivating students through content and curriculum models: Building a Sport Education Tactical Games Model (SETGM) unit on Spikeball.
Threatt, A., Simonton, K., & Layne, T.
Effects of a sport education instructional model and heart rate monitor system on the physical activity and jump rope performance of fourth grade students.
Layne, T., Simonton, K., & Irwin, C.
"My Methods Courses Feel Like Walmart": Influence of Secondary Organizational Socialization on Early Career Faculty Members' Implementation of PETE
Jamie Jacob Brunsdon and Matthew D. Curtner-Smith
'We're trying to produce serious educators': impact of secondary organizational socialization on mid-career faculty members' delivery of PETE
Jamie Jacob Brunsdon & Matthew D. Curtner-Smith
Physical Education Teacher Experiences Through the Lens of a Pandemic: Putting a Spotlight on Teacher Beliefs, Practices, Emotional Fragility, and Well-Being
Kelly L. Simonton, Todd E. Layne, Boone Brown, and Keith Loupe
Physical activity break program to improve elementary students' executive function and mathematics performance.
Todd E. Layne, Yli-Piipari, S., & Knox, T
Parents shape their children's physical activity during unstructured recess through intrinsic value the children possess.
Deng, Y., Hwang, Y., Todd E. Layne
---
Health Promotion
The Efficacy of Individualized, Community-Based Physical Activity to Aid Smoking Cessation: A Randomized Controlled Trial
Michelle B. Stockton, Kenneth D. Ward, Barbara S. McClanahan, Mark W. Vander Weg, Mace Coday, Nancy Wilson, George Relyea, Mary C. Read, Stephanie Connelly, and Karen C. Johnson
Determinants of smoking related weight-concern in smokers participating in a community-based cessation program
Cheri Kilmurray, Mark Vander Weg, Nancy Wilson, George Relyea, Barbara McClanahan, Michelle B. Stockton, Kenneth D. Ward