DEMETRIA FRANK NAMED ASSOCIATE DEAN FOR DIVERSITY & INCLUSION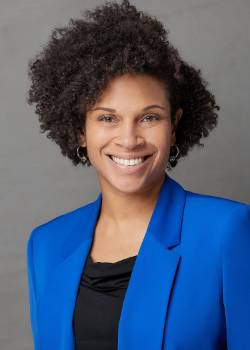 The University of Memphis Cecil C. Humphreys School of Law is proud to announce that Professor Demetria Frank has been appointed as Associate Dean for Diversity & Inclusion. Associate Dean Frank will remain a member of the law school faculty, while also serving in this important role overseeing the law school's diversity and inclusion efforts.
Associate Dean Frank will build upon the many successes she has overseen as the law school's Director of the Office of Diversity & Inclusion for the past three years. Under Professor Frank's leadership, Memphis Law has established an extended pipeline beginning in high school and conceivably lasting through law school graduation. In addition to initiating the high school-focused Bass, Berry, & Sims Summer Trial and Advocacy Institute (STAI) and Prelaw Undergraduate Scholars Program (PLUS) in partnership with the Law School Admissions Council, Professor Frank has worked to ensure continued growth of the law school's longstanding Tennessee Institute for Prelaw (TIP). She has also worked to ensure that the pipeline does not end upon law school entry by emphasizing the importance of mentorship of students through the Memphis Professional Development Program, now in its third year.
She has greatly enhanced and broadened the law school and Office of Diversity & Inclusion's community relationships and built a number of partnerships with various diverse Bars and the local legal community to better prepare our students for a world beyond the Mid-South. Her focus on introducing students to a wider range of ideas, individuals, workplace initiatives and settings, has helped prepare them to address diversity issues found on a global scale. Associate Dean Frank's highly-regarded expertise on issues involving systemic bias and inequity, community development, federal court litigation practice, and the overgrowth of the detention and prison industries have resulted in a variety of new partnerships and relationships as well.
Associate Dean Frank has overseen the law school's Diversity & Inclusion program as the law school was ranked the 13th best law school nationally for African-American students by preLaw Magazine, as well as being ranked in the Top 25 law schools for Law Degrees awarded to African-Americans in the country. Her time overseeing the program also coincided with the law school being listed by Enjuris as a Top 10 Law School for Black students and being recognized as a "Most Diverse Law School" by preLaw Magazine in 2017. Finally, the law school's diversity efforts were awarded with the 2015 Higher Education Excellence in Diversity (HEED) award by INSIGHT into Diversity Magazine.
Associate Dean Frank received her law degree from the University of Texas School of Law and began her legal career as a toxic tort litigation attorney before moving into the public sector as a Community Prosecutor in the Dallas City Attorney's Office. Her tenure as an Associate Judge for the City of Dallas and the City of Houston has been one of the most influential experiences in her legal career. She began her teaching career in 2011 and joined the University of Memphis School of Law faculty in 2013. Associate Dean Frank is the recipient of the Bass, Berry, & Sims Diversity Fellowship. Additionally, she is the past recipient of the University of Memphis Law School Alumni Chapter Pillars of Excellence Outstanding Professorship Award, as well as the 2019 recipient of the Unity in Diversity Award, presented by the HT Lockard Foundation and the 2020 Memphis Law MLK50 Service Award. Most recently, she was awarded the National Bar Association's Ben F. Jones Chapter President's Award.
Please join us in recognizing Associate Dean Frank for the outstanding successes achieved during her time overseeing the law school's Diversity & Inclusion efforts and congratulate her on her appointment as Associate Dean for Diversity & Inclusion at the University of Memphis Cecil C. Humphreys School of Law, where she will continue to build upon her past achievements and innovatively lead the school's efforts into the future.