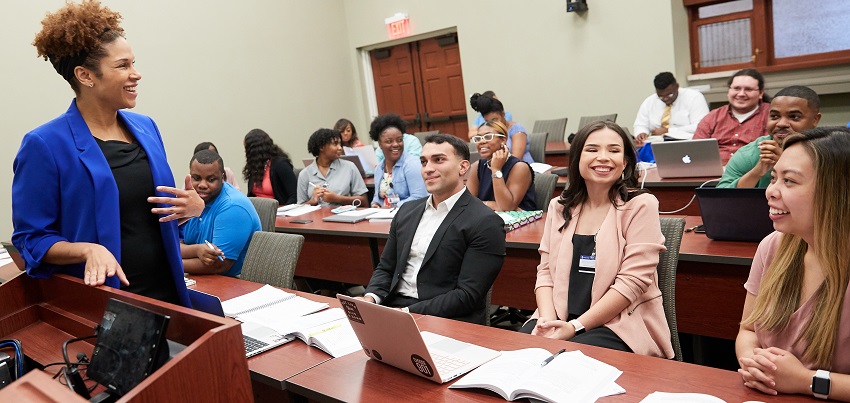 Diversity
We define diversity broadly to include several aspects of human differences that contribute to the intellectual discourse and inclusive environment at the University of Memphis School of Law.
The Office of Diversity collaborates with a variety of law school offices, student organizations, and community groups to promote a diverse and inclusive law school environment. Specifically, these initiatives aim to increase the access, admission, retention, and graduation of diverse students. Upon admission to law school, the Office of Diversity offers one-on-one counseling and support for students and student organizations and strongly encourages each student to take advantage of available University services.
Admissions & Access
Our access initiatives and recruiting efforts work to promote prospective students from historically underrepresented populations have access to information regarding the legal profession, the law school admission process, and financial aid opportunities.
Access and pipelining initiatives include:
Diversity & Pre-Law Day;

Tennessee Institute for Pre-Law (TIP) Admissions by Performance Program;

Summer Law Intern Program (SLIP) in partnership with the Memphis Bar Association;

Law Day, Street Law, & Youth Advocacy Camps
Inclusion & Retention
The Office of Diversity & Inclusion provides a number of programs that promote inclusion and encourage cultural competence of UM Law students. The Cecil C. Climate & Inclusion workshops, for example, support student, faculty, and staff exploration of self, culture, and society.
The Law School accomplishes many of its diversity objectives through the efforts of its Diversity & Inclusion Committee, comprised of students , faculty, and staff. The Diversity & Inclusion Committee works to create an inclusive campus environment by monitoring climate and providing student support through an annual Diversity & Pre-Law Day that introduces prospective students to the UM Law community while emphasizing the importance of diversity in meeting the Law School's many objectives.
Scholarships
A number of scholarships are available to entering students, including diversity awards, academic merit awards, and awards for students with demonstrated financial need. Through state appropriations and the generous donations of law school alumni and friends, over $600,000 in scholarship assistance has traditionally been awarded in previous academic years. Awards range from $1,000 to full in-state tuition.
Student Organizations
Many of our students participate in Student Organizations with diversity related missions. The Office of Diversity supports these organizations by providing grant funding to Student Organizations for hosting programs that encourage diversity and inclusion at UM Law. Student organizations with diversity related missions or that have inclusive programming include:
Association of Women Attorneys (AWA)

Christian Legal Society

Hispanic Law Student Association (HLSA)

International Law Society (ILS)

OutLaw

Jewish Law Student Association

Memphis Law +1

Public Action Law Society

Street Law
Recognition & Accomplishments
Recognized in 2017 by Pre-law magazine as a "Most Diverse Law School" earning a B+ in diversity.
Our most recent class was majority female, consisting of 56% women.
Memphis Law's faculty consists of 50% female professors.
Awarded the INSIGHT into Diversity Magazine 2015 Higher Education Excellence in Diversity (HEED) award. Memphis Law was one of five law schools in the country to receive this award.
Ranked one of the Top 5 Best Regional Law Schools for Black Students and a Best Bargain Law School for Black Students by Lawyers of Color Magazine.
In 2014, Memphis Law was recognized by The National Jurist for significant gains in our diversity ranking.
In 2013, Memphis Law was recognized by the Council on Legal Education Opportunity (CLEO) at its 45th Anniversary Celebration and honored as a member of the inaugural group of "William A. Blakey Diversity Pipeline Architects" for its access and diversity efforts.
For more information on diversity at the University of Memphis School of Law, please contact the Diversity Director, Demetria Frank, at 901-678-4948 or by email at lawdiversity@memphis.edu