Research Grants
About Hooks Institute Research Grants
Overview
The Benjamin L. Hooks Institute for Social Change is committed to supporting research by faculty at the University of Memphis (UofM) that addresses local issues yet has national relevance. In 2010, the Hooks Institute began making faculty research awards to tenured and tenure-track faculty members who are engaged in research related to the Hooks Institute's mission. We welcome applications from scholars in any field whose research relates to our mission of teaching, studying, and promoting civil rights and social change.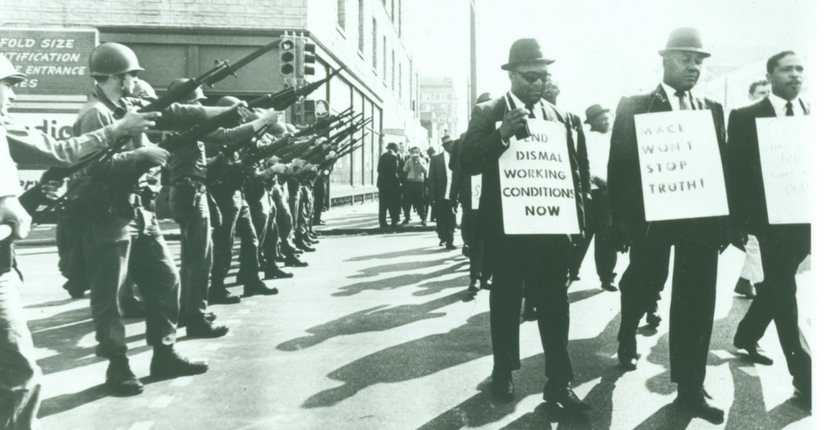 Sanitation workers march on Beale Street. 1968.Photograph c/o Preservation and Special Collections Department, University Libraries, University of Memphis.
Read about our past funded research below, and visit our website regularly for updates on requests for proposals.
Memphis Leaders and the Hooks Legacy. In 2012, the Hooks Institute awarded a $5,000 research grant to Wanda Rushing, PhD., Dunavant Professor of Sociology at the UofM. Her study of Memphis leaders and Dr. Hooks' legacy involves the use of selected Benjamin L. Hooks archival documents and interviews with current community leaders to study pathways of leadership in the post-civil rights era. The Hooks documents including correspondence, public speeches and sermons; identify Hooks' vision of social change, his assessment of leadership characteristics, and his expectations for continuing the legacy of the Civil Rights Movement. The interviews with community leaders in education, non-profits, business, and local government asked them about experiences that influenced their pathways to leadership, and their thoughts about the legacy of the Civil Rights Movement. To date, one peer-reviewed article using this data has received a revise and resubmit. Additional articles are in progress, and a book proposal will be submitted.
Mapping the History of West Tennessee. In 2009, the Hooks Institute awarded a $5,000 research grant to Esra Ozdenerol, PhD, a faculty member in the Department of Earth Sciences at the UofM. Dr. Ozdenerol worked with the Institute to create a Geographic Information System (GIS)-mapping website that disseminates information about pivotal civil rights events and their locations in West Tennessee. The GIS mapping website has electronic visualizations, such as animated maps, that allow exploration of recreated landscapes, hyperlinked stories, photographs, and video interviews of those involved in the Civil Rights Movement. The site was launched in Spring 2015.
Studying the Role of African American Faith-Based Communities in HIV Research. In February 2011, the Hooks Institute awarded Latrice Pichon, PhD, a faculty member in the School of Public Health at the UofM, a $5,000 research grant to study African American faith-based organizations' institutional readiness to engage in community-based HIV prevention research in the City of Memphis and Shelby County. The study sought to assess faith leaders and clergy attitudes, beliefs, and concerns about implementing HIV programs within faith-based organizations; to understand how policy, governance structure, congregational culture, theological views on sexuality, and official teaching may influence facilitation of HIV programs; and to identify salient elements that should be considered while screening and selecting faith-based organizations to participate in future HIV programs.
Race and Environmental Disparities. In 2011, the Hooks Institute awarded Chunrong Jia, PhD, a faculty member in the School of Public Health at the UofM, a $5,000 research grant to study environmental disparities in Memphis African American communities. Air toxins represent a wide range of pollutants that may cause cancer, birth defects, or other serious health problems. The overall objective of this study was to characterize the socioeconomic and racial disparities in air toxin exposure and the associated lifetime cancer risk in Memphis.
Make A Splash Mid-South: An Initiative to Increase Swim Rates Among African American Youth. In April 2009, the Hooks Institute joined two faculty members, Carol and Richard Irwin, PhDs, from the School of Health Studies at the UofM, to fund research evaluating a minority youth swimming program created by Make a Splash Mid-South, a Memphis non-profit organization. This learn-to-swim program seeks to increase swimming proficiency among minority children in communities with low participation rates. Drowning is a leading cause of death for children ages 5 to 14 in the United States, and drowning deaths are notably higher among minority populations. The research, funded with a $4,300 grant from the Hooks Institute, has demonstrated thus far that the learn-to-swim program is an effective approach to addressing this health disparity among minority populations.
The researchers published a monograph on the Hooks Institute's website to share Make A Splash Mid-South programming and research results with communities throughout the nation. The goal is to guide communities on how to replicate the organization's success in Memphis, which may diminish the disproportionate number of minority youth drowning incidents across the United States.
Click on the picture below to read the monograph and click here for the Splash Mid-South update.