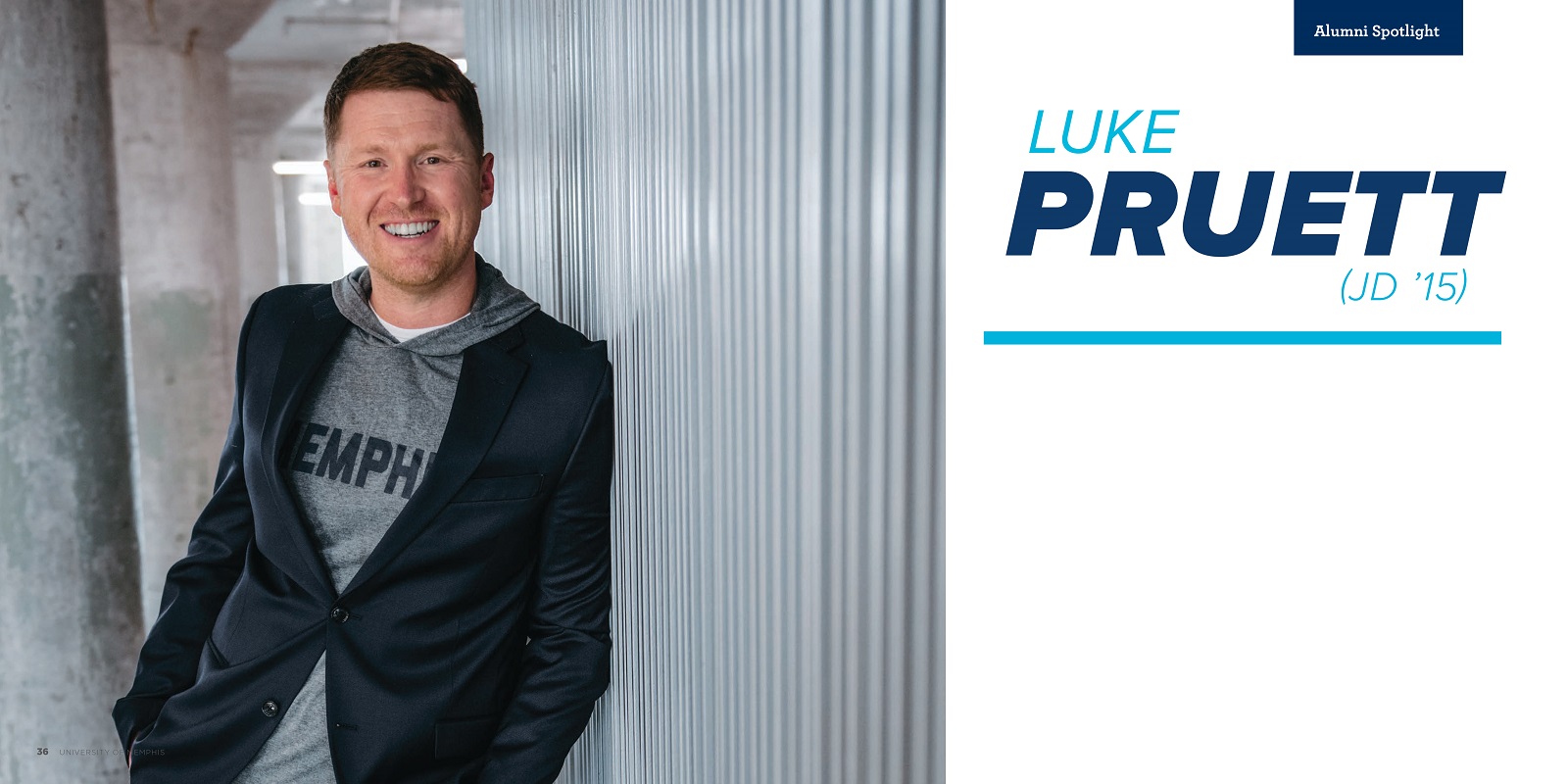 ---
I ALWAYS SAY THAT MEMPHIS IS LIKE YOUR MAMA," Luke Pruett (JD '15) joked. "You love it, but you don't always expect everyone else to.
"But in law school, I kept meeting all of these folks from Denver, Dallas, Nashville and all of these places who didn't want to go home, and all of a sudden ... it was like everyone else just loved mama too!"
That's one of the more unique ways to describe how a love of Memphis sneaks up on most everyone who comes to call the Bluff City home. But terms like unique, love, Memphis ... those are all things that ring true when you talk about Pruett too.
Building on that sense of uniqueness, Pruett took a nontraditional route to law school, and he's ended up in what one might call a nontraditional career for someone with a law degree. But the common threads throughout his travels have always involved passionate service, learning and leadership.
Originally from Blytheville, Ark., Pruett and his wife, April, both attended Union University in Jackson, Tenn., where he worked in student life and enrollment for six years after finishing his undergraduate degree there.
Wanting to find a way to advance his career options and with Memphis having always been a big part of his life — as a nearby Blytheville resident coming here for fun or as a mentor to a young student residing in Memphis — Pruett enrolled on a whim to the University of Memphis School of Law, not knowing much more than the building was beautiful and downtown was on the rise.
He soon found out that there was much more to love about being here.
Though he commuted from Jackson to Memphis several times a week for classes, he began to find more and more inspiration in the Bluff City. It started to become more than just a place to attend law school. He was soon caught up in the momentum of the city and the passionate people making a difference here.
It was around this time that several prominent Memphis websites and media outlets took off. The Choose901 and I Love Memphis websites began to soar in popularity and promote Memphis, Memphians and the stories of both in a way not seen before or appreciated by the people who lived here.
"In March of my 3L year, I started up a podcast and website project all about Jackson that was really inspired by the energy and momentum that Choose901 and the I Love Memphis blog were harnessing here," Pruett said. "That led to me meeting John Carroll, the executive director of City Leadership, the organization behind Choose901, and he invited us to come into the mission of advocating for a city we'd fallen in love with, but didn't know there would be an opportunity to help advance it."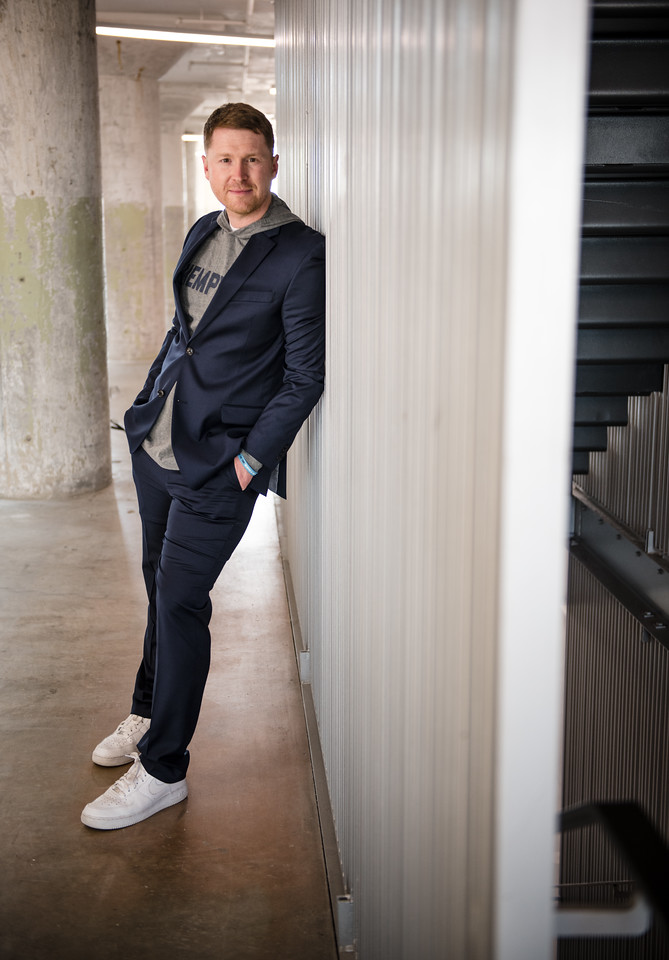 It was a quick pivot, but Pruett and his family went from a path toward law in Jackson to a life of nonprofit consulting in Memphis within a few short months.
"When I graduated, I had planned on practicing law at a firm back in Jackson," Pruett said. "But after graduating in May and before taking the bar exam, I walked away from a legal career and into doing nonprofit consulting work by June 2015."
Choose901 might be the most visible product of the City Leadership organization Pruett went to work for, but its mission goes much deeper than just positive city promotion. It exists to recruit, develop and catalyze leaders for the benefit of the city itself. Its goal is to creatively serve other nonprofits, schools, churches and various government agencies, and proactively identify the challenges of other leaders in Memphis and try to help them find the best solutions for themselves and the future of the city. They also strive to keep innovative and creative young Memphians in Memphis or help convince them to come back and work here.
"I came on board to recruit young people to stay in Memphis or return to Memphis," said Pruett. He quickly became engaged in sharing his passion for the city and City Leadership's mission and is currently the recruiting
director for City Leadership, with a lead role in the Teach901 and Serve901 campaigns.
According to Pruett, being able to lead at this level so quickly couldn't have happened without the time he spent at Memphis Law and the experiences he had in law school.
"Even though I'm not practicing on a day-to-day basis, Memphis Law changed my life," Pruett said. "There's a mindset that came with it. I just didn't understand the importance of failure when it came to work ethic until I came to law school. There's no way to be good at law school without failing, and there is definitely no way to be a good leader without failing on a day-to-day basis and being able to learn from those failures."
In a related item of leadership, things ramped up dramatically in 2015 around the time that Pruett joined the team to lead Teach901, which has evolved to where it now annually recruits 200 educators from around the country to come and work in Memphis schools, specifically schools serving the city.
Pruett's efforts with Teach901 are also dedicated to retaining the incredible teacher talent already in Memphis through a number of different ways. The organization hosts events that build community and show appreciation, share positive stories that uplift educators and education-based organizations, and provide professional development opportunities.
"We believe that educators are the most important thing in advancing equitable education," Pruett said. "Our contribution to the future success and growing movement in Memphis is to invest in high-quality individuals who haven't thought about a career in education and steering them toward a new career here or finding experienced and creative educators who are in markets that have a surplus and bringing them to high-needs areas here in Memphis."
According to Memphis Teacher Residency, one of City Leadership's ongoing partners, of 381 metro areas in the U.S., Memphis has the lowest rate of "absolute upward mobility" for children born into lower-income families. Children born into lower-income families in Memphis are the least likely to be earning meaningfully more as adults. This statistic is significantly related to the quality of education provided to lower-income children in each of these metro areas.
Related to this, Memphis is one of the cities where minority students are most likely to attend a concentrated-poverty school where more than 50% of students come from lower-income families. A variety of research points to all students doing better if they do not have to attend a school with concentrated poverty.
"We know that resource availability is what determines economic outcome," said Pruett when asked about this issue. "There is a direct correlation to access to high-quality resources to the way in which your education and career journeys go.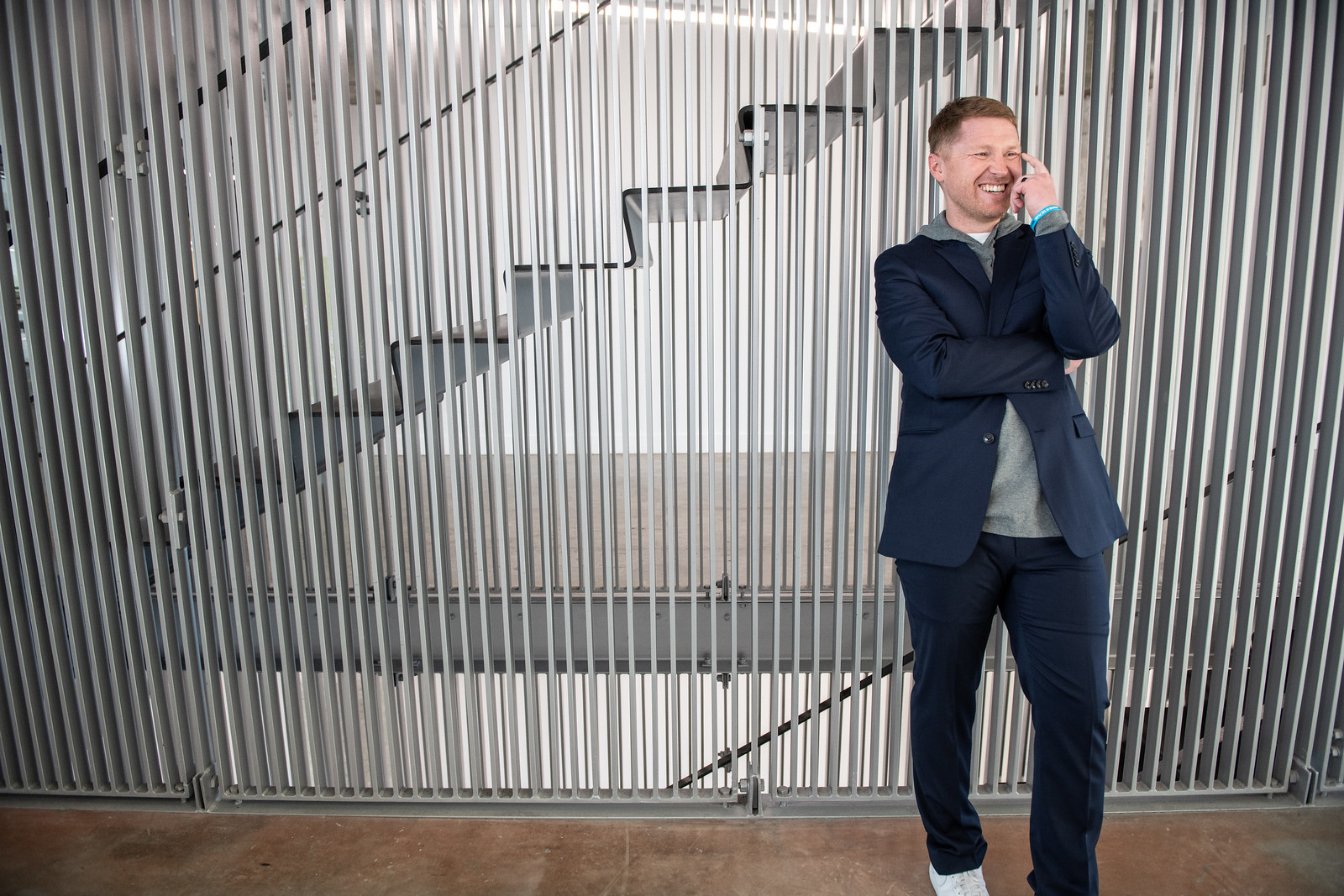 "Investment in communities, education and talent are what is needed over time to create better education and community outcomes. We've seen this in our schools. When the funding is there, when the talented and creative educators are there, that incredible outcomes happen."
The future of the city depends on all of these issues and how they tie to equitable education, according to Pruett and City Leadership.
"For us to become the city that we can become, from arts, to business, to justice issues, we have to have equitable education," Pruett said. "It is the gateway. It's the way forward. It's the answer to questions from justice, to business, to day-to-day flourishing in communities throughout the city."
The person that inadvertently fell in love with Memphis is now in charge of helping others do the same to help push the city forward and achieve its full potential.
Getting his audiences to recognize Memphis' potential has to do with ensuring that educators, leaders and everyday Memphians are pushing the boundaries and not settling for old solutions to new problems.
"We tell people all the time, 'Don't be what the New York Times is writing about; be what they are going to write about,'" Pruett enthusiastically said.
Part of that has to do with making sure current and former Memphians see the city's worth. Pruett works hard to ensure that Memphis "alumni" know about what is happening here and are spreading the word about the wealth of opportunities available to anyone looking for an engaging life or career in a variety of fields.
"There are two misconceptions that we want to address," Pruett said. "One of them is the belief, often held by current and former Memphians, that there are no jobs for creative and innovative individuals in Memphis. Not only do we want to help these people get connected to economic opportunities, but we also don't want to lose our talented young citizens to other cities around the country."
Pruett also noted that a lot of employers and Memphians were often guilty of selling Memphis short in the past, looking out of town for talent and jobs.
"For a long time, Memphis was a place that didn't believe in itself on a broad scale, but that is changing," said Pruett. "And now that same broad belief that Memphis has found in itself needs to be cultivated and move into education here."
When Pruett says, "Choose 901," he wants people from all over the country to choose Memphis. More than anything he wants Memphians to believe in it and stay here.
"That's the secret sauce," he said.