CLEA OUTSTANDING CLINIC TEAM AWARD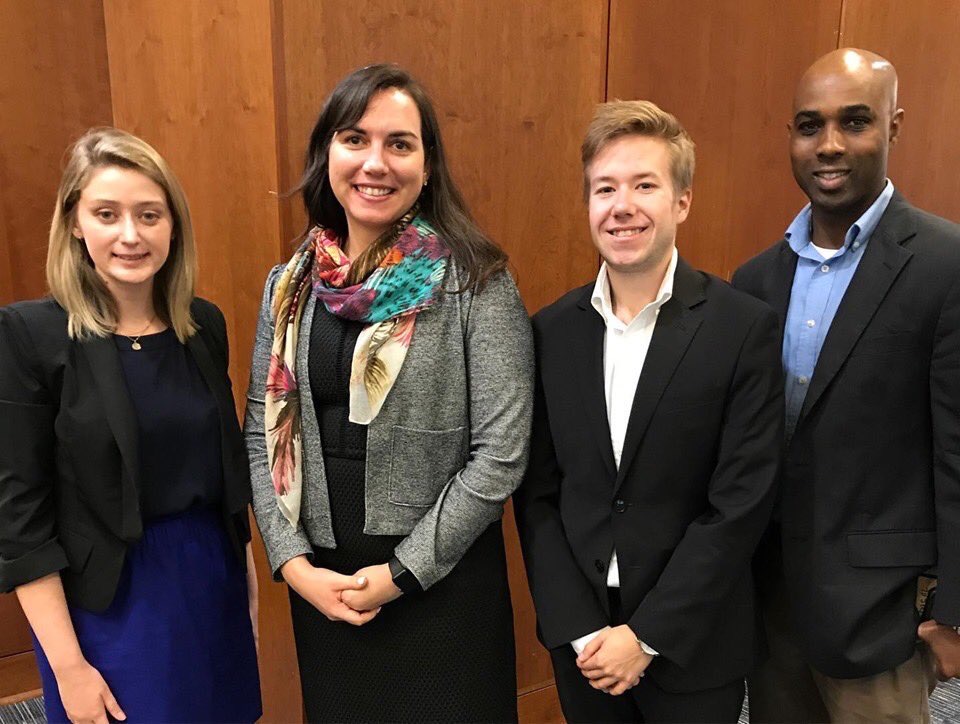 University of Memphis Cecil C. Humphreys School of Law recent graduates Corey Davis, Rachael Ledbetter, and C.J. Parrish were recently awarded the Clinical Legal Education Association (CLEA) Outstanding Clinical Team Award for their work in the Medical-Legal Partnership Clinic during the 2019-2020 academic year.
CLEA recognizes law student teams who have excelled in clinical fieldwork in law school by providing high-quality representation to clients, who have engaged in exceptionally thoughtful, self-reflective participation in an accompanying clinic seminar, and who have effectively collaborated and made positive contributions to the clinical community at the law school. Corey, Rachael, and C.J. were recognized for, among other things, their zealous advocacy on behalf of a client whose terminally-ill child was at risk of losing her home nursing hours that were provided through TennCare, Tennessee's Medicaid program.
In their nomination letter for the team, the Memphis Law clinical faculty noted several things that make this team of students the ideal candidates for this award. They stated that Corey, Rachael, and C.J. pored over thousands of pages of medical records, interviewed doctors involved in the child's care, performed countless hours of research to build a compelling legal argument and theory of the case on behalf of their client, drafted and submitted discovery requests, and advocated directly with the TennCare attorney, arguing that a reduction of the nursing hours was wrong. On the eve of the scheduled hearing in March 2020, TennCare decided to reverse their decision to reduce the nursing hours and reinstated the 24-hour care. There is no doubt that without the dedication and tremendous advocacy of this team of students, the client would not have been able to mount a defense against TennCare's reduction and the family would have lost an essential and life-sustaining support for their child. Corey, Rachael, and C.J. demonstrated the highest level of professionalism and zealous advocacy in their work on this case.