PROFESSOR SCHAFFZIN PRESENTS AT TENNESSEE MUNICIPAL LEAGUE CONFERENCE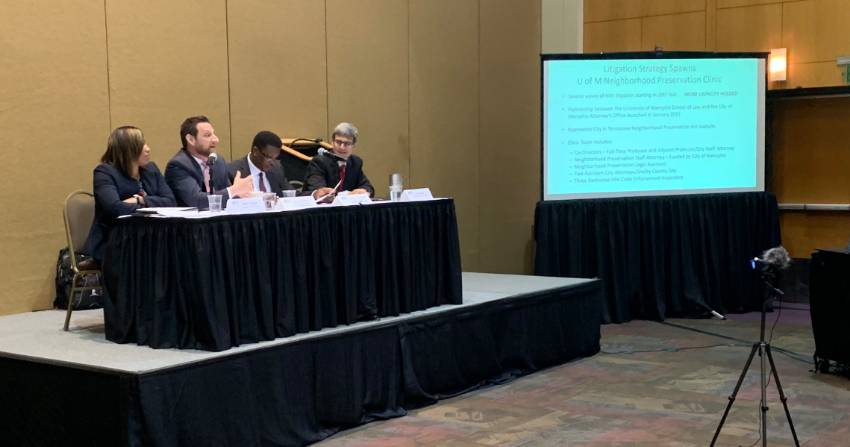 Professor Danny Schaffzin presented a workshop entitled "Memphis' Coordinated Fight Against Property Blight" at the Tennessee Municipal League's 2019 Annual Conference on June 24, 2019. Presenting as part of a panel, Professor Schaffzin focused his remarks on the work of Memphis Law's Neighborhood Preservation Clinic. Adjunct Professor Steve Barlow, who co-directs the Clinic with Professor Schaffzin, moderated the workshop. Shelby County Environmental Court Judge Patrick Dandridge and City of Memphis Code Enforcement Prosecutor Brittany Williams also presented as workshop panelists. Ms. Williams recently transitioned to the City of Memphis Attorney's Office after serving as the Neighborhood Preservation Clinic Staff Attorney.
The Neighborhood Preservation Clinic represents the City of Memphis in public nuisance lawsuits filed directly against badly neglected, vacant and abandoned properties. Under the supervision of Professors Schaffzin and Barlow, and in collaboration with Neighborhood Preservation Clinic Staff Attorney Brigid Welsh, clinic students investigate property ownership and conditions; communicate with field code enforcement professionals; and research, prepare and file civil cases alleging claims arising under the Tennessee Neighborhood Preservation Act (NPA), T.C.A §13-6-101 et seq.