2017 W. Russell Smith Award for Teaching Excellence
The W. Russell Smith Teaching Award honors a faculty member within the College of Arts and Sciences for teaching excellence. All full-time faculty members with at least four years of service in the College of Arts and Sciences are eligible. The award is selected by vote of the graduating seniors and consists of a certificate and cash payment.
The award is the College's highest honor for teaching excellence. The selection of a recipient is based primarily on nominations by graduating seniors who are asked to nominate up to three of their professors who have taught for at least three years in the College. What adds to the prestige of this award is the number of faculty members who are nominated by students.
Kendra Murphy, Instructor Coordinator, Department of Sociology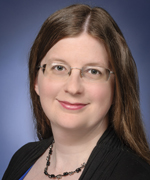 Ms. Kendra Murphy won Alumni Association Distinguished Teaching Award in the spring 2014. Ms. Kendra Murphy is an instructor/coordinator and undergraduate advisor in the Department of Sociology at the University of Memphis. She received her Bachelor's in Sociology at the University of Central Arkansas in 2003 and her Master's in Sociology at the University of Memphis in 2007. Upon graduating, she began teaching as a full-time instructor at the University.
In 2012, she became the undergraduate advisor for the Sociology department. Ms. Murphy teaches undergraduate courses both in-person and online, including Introduction to Sociology, Introduction to Sociology for Pre-Med and Pre-Health, Racial and Ethnic Minorities, Sociology of Gender, Sociology of Deviant Behavior, Marriage and Family and Contemporary Social Problems. Previously, Ms. Murphy won the 2013 College of Arts and Sciences Excellence in Teaching award.
Ms. Murphy's teaching is focused on helping students develop critical thinking and writing skills that they can use throughout their lives. She is best known for her creative lectures on social deviance, which is her favorite topic to teach. Whether by discussing statistics or bringing furries into the classroom, Ms. Murphy is committed to helping all of her students in developing their sociological imaginations.