2017 Willard R. Sparks Eminent Faculty Award

Dr. Abby Parrill-Baker
Associate Dean, College of Arts & Sciences; Professor of Chemistry, Department of Chemistry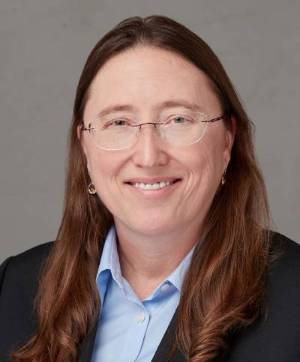 Dr. Abby Parrill-Baker has distinguished herself in the field of computational chemistry as evidenced by grants, publications, patent applications, and research recognition; as well as a teacher and administrator as evidenced by teaching awards, leadership roles and extracurricular involvement. Hired by the UofM Chemistry Department in 1998 as an outstanding young computational chemist to help develop programs in organic and biochemistry, Dr. Parrill progressed from Assistant Professor to Professor in a remarkable eight short years and established one of the strongest research programs in Chemistry.
Dr. Parrill's extraordinary and sustained contributions to research, specifically her applied computational methods of modeling the structures of transmembrane proteins, have played critical roles in cancer, Huntingdon's disease, and other disease research. Her primary research accomplishments have included: 1) molecular understanding of phospholipid receptor structures and ligand interactions (an area where she is a national leader); 2) new agonists and antagonists for phospholipid receptors, 3) first drug-like inhibitors of the cancer-promoting autotaxin enzyme, and 4) molecular understanding of ligand-modulation of calcium- and voltage-gated potassium channels. In each of these areas, Dr. Parrill has a strong international reputation.
Her unparalleled level of scientific originality and insight on topics of relevance to Chemistry, Biology and Human Health, have been recognized by the very top journals in their respective fields. To date, Dr. Parrill has been awarded over $5.3 million in external research funding as Principal Investigator or co-Principal Investigator, and most recently a $408,000 grant from the National Institutes of Health to apply a computational model-driven approach to identify both natural and potential clinical agents targeting an orphan receptor in the brain (with co-PI Daniel Baker). She is the co-editor of four books, has published 97 refereed publications, has 6 patent applications, has given 81 invited presentations and contributed to 141 other presentations at research conferences.
Dr. Parrill's research includes not only computational studies but also laboratory studies. Upon achieving tenure in 2002, Dr. Parrill spent a year at St. Jude Children's Research Hospital working in Richard Kriwacki's structural biology lab where she learned sample preparation and NMR spectroscopy methods for determining the structure of membrane proteins. The combination of these experimental techniques with her expertise in computation methods have resulted in new areas of research and funding. As she continues her collaborations and regular exchanges with outside investigators, her on-campus lab provides a rich and nourishing environment for training future scientific investigators at the UofM.
In parallel to an outstanding research career, Dr. Parrill has excelled in teaching and service at the UofM. Her record of excellence in teaching spans from successful training of high school students to delivering highly technical seminars, presentations and courses to post-graduate specialists. Recognized for her teaching excellence, Dr. Parrill has been honored with several prestigious awards such as the Excellence in Teaching Awards from the University of Arizona, the Golden Apple Award by Michigan State University, and the Award for Teaching Excellence by the University of Memphis.
Dr. Parrill is an avid promoter of better teaching and greater student engagement in research. Her presentations at national and international conferences are not limited to the communication of scientific data, but include the dissemination of general knowledge and education. Her talks have included "Student Motivation," "Incorporation of Computational Chemistry and Modeling into Curriculum" and "Establishing a Learning-Centered and Non-Threatening Environment in Large Classrooms." Most recently, Dr. Parrill produced the Chemistry Department's very first online general education Chemistry course and laboratory. This new academic offering provides greater opportunity for students on both the Memphis and Lambuth campuses.
During her tenure as Chemistry Department Chair (2010-2014), Dr. Parrill also served in an advisory role to the dean representing all the Natural Sciences departments. Now, as Associate Dean of the College of Arts and Sciences (2014 – present), Dr. Parrill works directly with the Dean on matters pertaining to recruitment, hiring, budget development and resource allocation, program and curriculum development and other issues related to the administration of the College. She continues to serve as the Dean's liaison to the Natural Sciences Departments, as well as the interdisciplinary programs that are oriented toward the natural sciences. Additionally, Dr. Parrill supports faculty across the College in their efforts to obtain external funding for their research and scholarship, and promotes the growth of research and student involvement in research at all levels.
Dr. Parrill is also extremely active in professional and non-professional communities. She serves as an active reviewer of prestigious scientific journals and National Science Foundation proposals. Her expertise is sought for National Institutes of Health study panels, as well as symposia and professional society national meetings. Dr. Parrill also serves the community as board chairman for the PRIZM Ensemble, a local organization committed to building diverse community through chamber music education, youth development and performance in underserved communities across Memphis.
Education: 1992, B.S., with Honors, Chemistry, Central Michigan University
1996, M.S., Chemistry, University of Arizona
1996, Ph.D. Chemistry, University of Arizona