Curriculum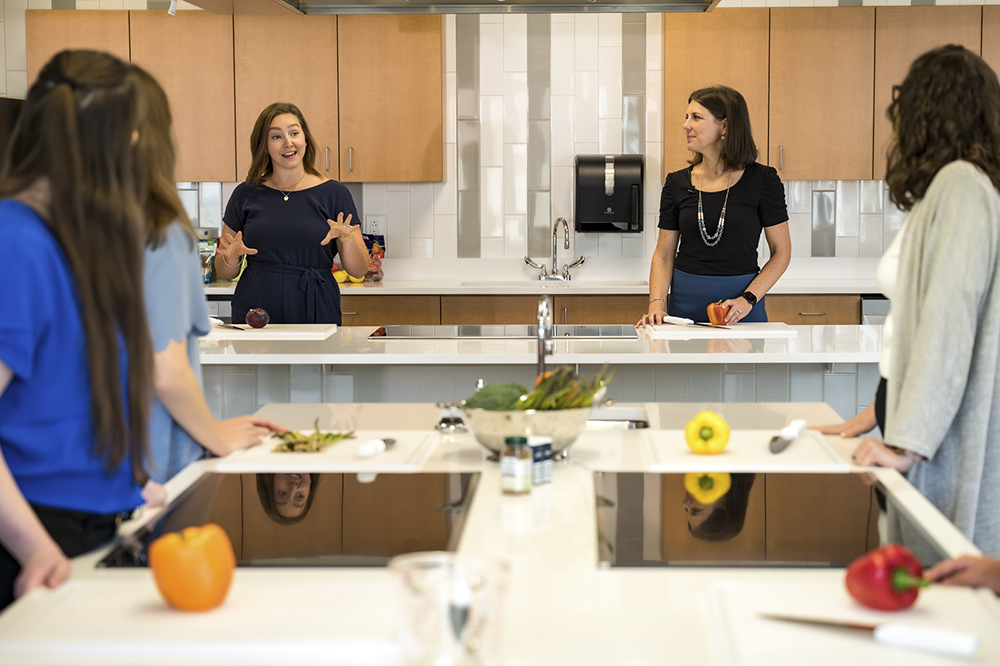 Our curriculum provides foundation, knowledge and skills in the areas of communications, physical and biological sciences, social sciences, research, food, nutrition, management and health care systems. Upon graduating from our program, you are competent in your ability to effectively communicate, apply scientific methods and the nutrition care process, and to use tools of professional management.

All program graduates who complete the program requirements with a cumulative GPA of 2.75 receive an ACEND- Verification Statement and are eligible to apply for a supervised practice program (dietetic internship). However, we recommend that students maintain a minimum GPA of 3.25 in order to be competitive for placement in a dietetic internship program. Dietetic internship graduates are eligible to complete the national registration examination to become a registered dietitian nutritionist (RDN).

All program graduates who receive an ACEND Verification Statement are eligible to take the Dietetic Technician Registration examination. Successful completion of this examination results in the NDTR (Nutrition and Dietetics Technician Registered) credential. If you choose not to apply for a dietetic internship appointment, you'll have varied career options. You can select careers in extension services, business, healthcare and education. You will also be prepared to apply for graduate/professional post-baccalaureate programs.

You must make entry into the D & D Digital Academy of Nutrition and Dietetics Internship Matching and complete the online internship application process through DICAS . Check the D & D site for the exact deadline date. More information about the DICAS process and D & D digital matching may be obtained from your undergraduate didactic director.

The dietetics concentration is accredited as a didactic program in dietetics (DPD) by:

Accreditation Council for Education of the Academy of Nutrition and Dietetics (ACEND)
120 South Riverside Plaza, Suite 2000
Chicago, IL 60606
800-877-1600 ext. 5400
The University of Memphis Didactic Program in Dietetics (DPD) program has been granted full accreditation by ACEND through 2023
---
For additional dietetics degree and program curriculum information:
In addition to tuition, book and laboratory fees, students enrolled in NUTR 4605: Internship in Nutrition are required to:
complete a background check through PreCheck at the approximate cost of $50.
be up-to-date on immunizations.
have a negative result on a TB skin test.
have completed a basic physical exam.
carry your own student liability insurance policy (approximately $30 through the Academy of Nutrition and Dietetics) prior to entering your assigned facility for clinical observation.
You will also participate in a 6-week intensive hands-on culinary medicine training program as a part of your capstone experience. This program costs approximately $100 per student and is the student's responsibility.
For a complete listing policies and procedures- please view the student handbook. Additional costs are involved with the Food Science courses, but are clearly outlined in the syllabi of the respective courses.
---
Effective January 1, 2024, the Commission on Dietetic Registration (CDR) will require a minimum of a master's degree to be eligible to take the credentialing exam to become a registered dietitian nutritionist (RDN). In order to be approved for registration examination eligibility with a bachelor's degree, an individual must meet all eligibility requirements and be submitted into CDR's Registration Eligibility Processing System (REPS) before 12:00 midnight Central Time, December 31, 2023. For more information about this requirement visit CDR's website: cdrnet.org/graduatedegree. In addition, CDR requires that individuals complete coursework and supervised practice in program(s) accredited by the Accreditation Council for Education in Nutrition and Dietetics (ACEND). Graduates who successfully complete the ACEND-accredited DPD program at the University of Memphis are eligible to apply to an ACEND-accredited supervised practice program.
In most states, graduates also must obtain licensure or certification to practice. For more information about state licensure requirements click here.
For more information about educational pathways to become a RDN click here.