PALS ALTERNATIVE SPRING BREAK 2022
This Spring, Memphis Law's student organization, the Public Action Law Society (PALS), hosted the 13th Annual Alternative Spring Break Program.
This year's ASB featured 63 law students taking part and working across eight specially-designed "tracks" of legal focus. Throughout the week, these ASB students contributed nearly 2,150 training and project hours and helped hundreds of individuals in need of legal services.
The PALS Alternative Spring Break coordinator for this year's program was Memphis Law student Dominque DeFreece, who led every aspect of the program's design and implementation.
Descriptions of the eight tracks, as well as a summary of the results and work accomplished within each track, can be found below.
Eviction Settlement Track – Working with Neighborhood Preservation, Inc., participating students successfully negotiated Memphis and Shelby County Emergency Rental Assistance agreements with landlords to help 16 tenants and tenant families avoid eviction.
Track Leader- Ameshia Forrest

Participating students – Dunn Crowder, Jacob J. Deveney, Davis Crocker, Allison E. Porter, Scott Cheadle, Nola Madison, Abigail Snow, Jack Pullis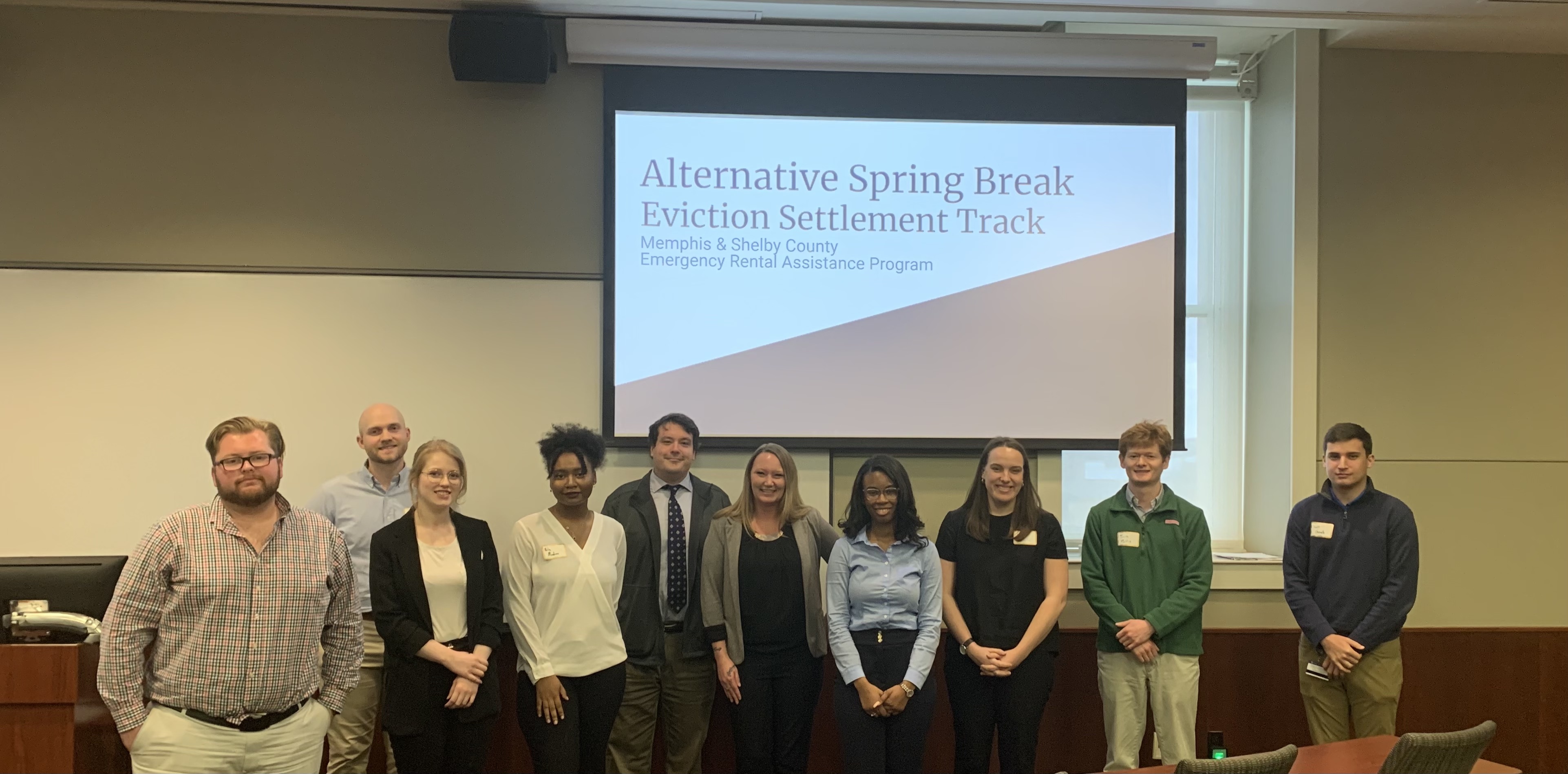 Expungement/Pro Se Divorce Track – Alongside Memphis Area Legal Services, participating students completed records expungements and fee waiver petitions for 154 clients. Each of the participating students also helped 2-3 clients finalize the information and petition materials necessary to obtain uncontested divorces.
Track Leader – Tiearny R. Parson

Participating students – Fares Elkhayyat, Austin Hendeson, Mandi Berrocal, Adrienne Aviles, Grayson Cho Andrews, Micah Traylor, Eric Gray, Thomas Norwood, Molly Cook
Fair Housing Track – Trained by Legal Aid of Arkansas's Fair Housing Project, participating students served as testers gathering potential evidence for use in housing discrimination complaints. The students used fictitious profiles to conduct and record a total of 42 fair housing tests in West Memphis and Forrest City, including 21 tests on rental housing, 17 telephone tests, and 4 in-person sales tests.
Track Leader – Spencer Kaul

Participating students – Cody Tolbert, Loren Gladwill, Tarik J. Terry, Caitlyn Clendenin, Kentavius Whitt, Edward Kennelly, Arthur White, Toni Cross
Immigration/Asylum Assistance Track – Following training on the law governing asylum, students worked with Welcome South (a collaboration of local non-profits Advocates for Immigrant Rights, the Community Legal Center, and Mid-South Immigration Advocates) to research and draft legal memoranda and create an annotated research index that will aid in active efforts to seek asylum for 28 Afghan refugees.
Track leader – Krystal Nguyen

Participating students – Ashlie Gozikowski, Jonathan Swann, Brandon Hendren, Jacob Graham, Kristin Mae Talens, Caleb Hand, Alanna Rice
Name Change/Gender Marker Track – Working with Mid-South Immigration Advocates Attorney Elizabeth McClellan on Tuesday and Wednesday, participating students prepared name change petitions for 35 Tennessee residents. The students helped 11 of the clients to file the petitions in the Shelby County Probate Court, with filing fees ($168 per petition) covered in their entirety with funds (well over $2000) raised by OutLaw. Students also worked on a name change "how to" packet for use by OutMemphis. On Thursday, participating students worked with Legal Aid of Arkansas to assist 19 additional clients seeking name and gender marker changes.
Track Leader – Tess Shelton

Participating Students – Iasia Peoples, Corissa Davis, Anna Isabel Lim, Jessica Warsheski, Ian McCord, Sage Beasley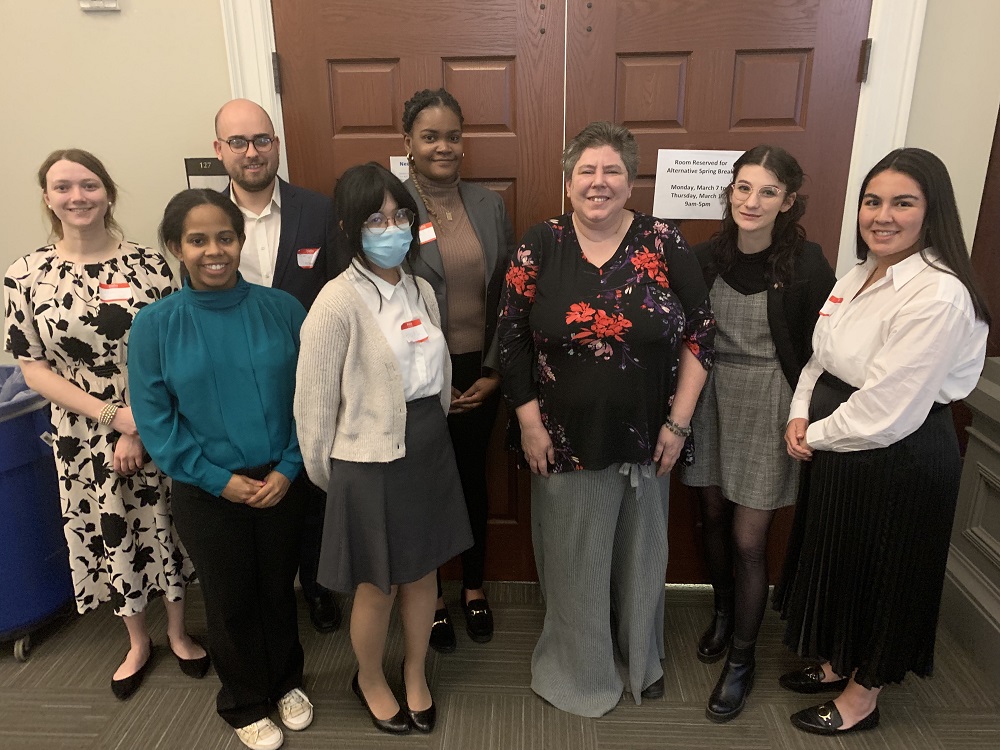 Public Defender's Office Track – This track introduced participating students to the work of the Shelby County Mental Health Court and the Shelby County Veterans Court. Partnered with Assistant Shelby County Public Defenders, the students observed dockets, arraignments, and in-custody appointments, participated in Mental Health Court and Veterans Court staff meetings about the status of program participants, and took part in a Project Jericho roundtable discussion about treatment collaboration for current patients. The students also toured the Memphis Mental Health Institute and the Alliance Healthcare Services facility.
Track leader – Skkye Moreno

Participating students – Kelly Baker, Christina Mulliford, Hailey Townsend, Sophia Davis
Street Law Track – Under the supervision of attorney Danielle Woods, participating students spent the week working with more than 60 students across multiple grades at Crosstown High School. Among other track contributions, the law students designed and taught classes on discrete voting rights' topics, critiqued and provided guidance on Crosstown students' capstone presentations, and observed and commented on a student panel discussing legislation and the legislative process.
Track leader – Mirna Toma

Participating students – Jaske Goff II, Madison Traylor, Jesse Drake, Anthony Ray Self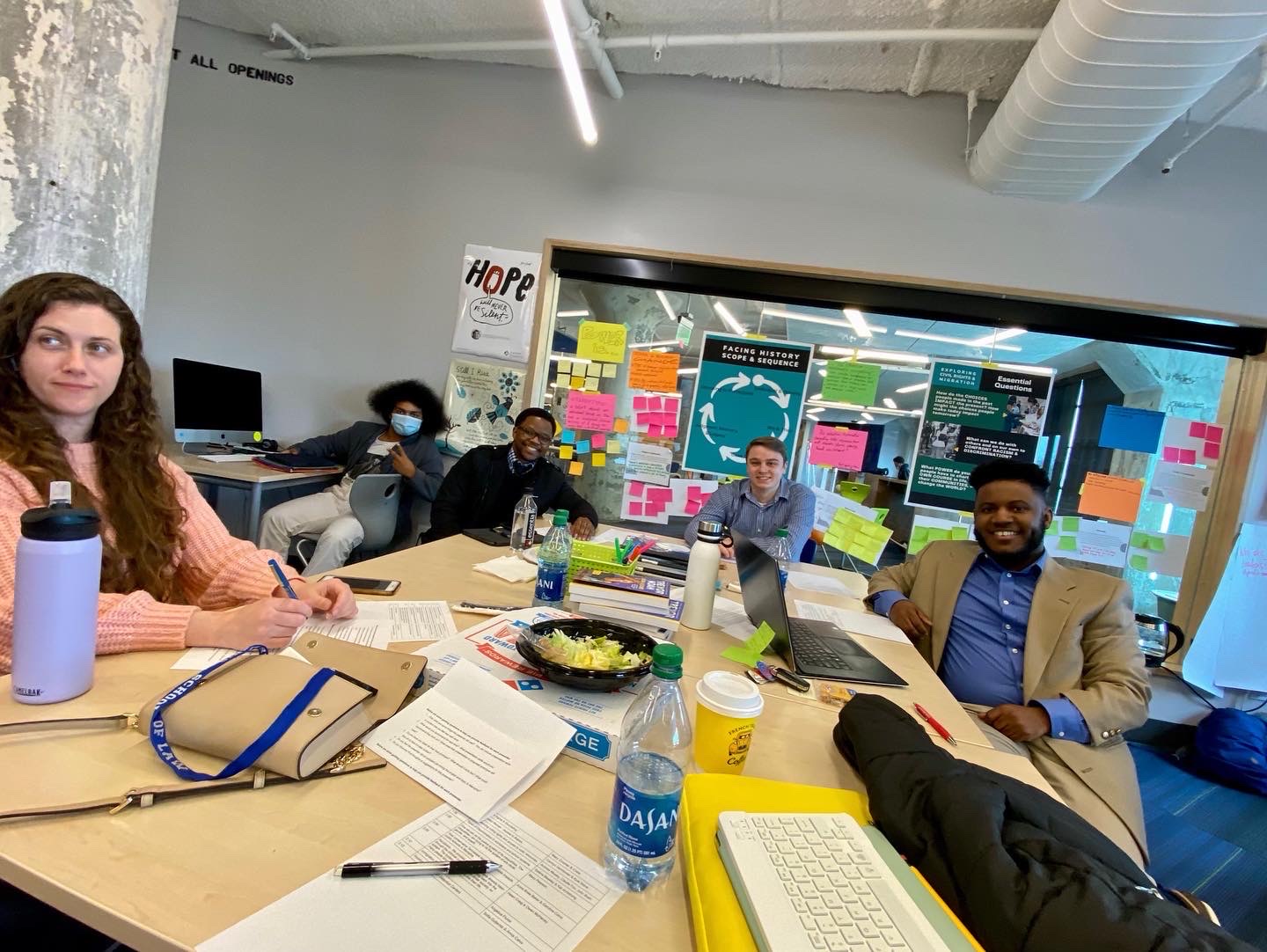 Wills and Estates Track – Working with David Cook and Memphis Area Legal Services, participating students assisted a total of 72 people through consultations and/or drafting wills, advanced healthcare directives, and powers of attorney.
Track leader – Ash Jones

Participating students – Sam Siepert, Zachary Elam, Julie Chapman, Alexandra Hammer-Greenberg, Jennifer Myers, Franklin Edrich, Luke Gibson, Juedon Kebede, Alexander P. McWhirter, Ashley Singleton, Miles Malbrough