2014 Dr. Pat E. Burlison Faculty Award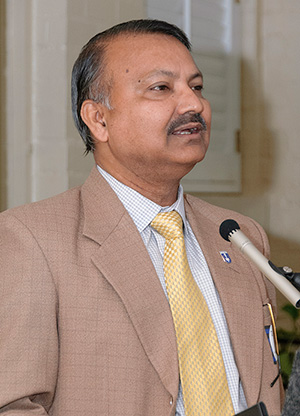 Dr. Dipankar Dasgupta has been awarded the Dr. Pat E. Burlison award at the University of Memphis. The appointment will continue for at least five years beginning Fall 2014. The commitment comes with an annual award of $5,000 to be used at his discretion for research support.
Dr. Dasgupta is a professor in the Department of Computer Science and the Director of the Center for Information Assurance (CfIA), and the Intelligent Security Systems Research Laboratory (ISSRL). He was the recipient of the University of Memphis Willard R. Sparks Eminent Faculty Award in 2012.
Current research by Dr. Dasgupta has received financial support through a grant from the National Science Foundation (NSF) in the amount of $364,864. The grant is a collaboration project with Jackson State Community College titled, "Puzzle-Based Cybersecurity: Learning to Enhance Defensive Skills of Front-Line Technicians." The goal of the project is to keep business and government computers and information systems more secure by preparing technicians who can prevent, detect investigate breaches.
The University of Memphis has been designated as a National Center of Academic Excellence in Information Assurance Education by the National Security Agency and the U.S. Department of Homeland Security, which will run from 2014-2021. The designation came because of work by the university's Center for Information Assurance, which is led by Dasgupta and Judith Simon. The CfIA develops educational tools, programs and training for students and professionals, including police and other law enforcement officials, while also developing improvements to secure online commerce.
Besides the NSF, Dasgupta has received grant awards from such sources as the U.S. Navy, the Department of Homeland Security, National Security Agency, the Department of Defense and the Office of Naval Research. In collaboration with Vanderbilt University and Sparta Corp., he managed the ACT Online project, which developed a multi-level, multi-track cyber security training program for information systems professionals and law enforcement officers. This program is now used nationally.
Dr. Thomas Nenon, dean College of Arts and Sciences calls him an, "extremely productive researcher" and "expects significant returns for the university through Dr. Dasgupta's and his team's efforts."