ICYMI - Headlines
(In Case You Missed It)
UofM's Dr. Lan Wang Receives Grant from the Mission-Integrated Network Control Program
Dr. Lan Wang, department chair and Dunavant Professor in the UofM's Department of Computer Science, has received a grant from the Mission-Integrated network Control (MINC) program sponsored by the Defense Advanced Research Projects Agency (DARPA). Peraton Labs Inc. is the prime contractor of the contract. As outlined on the DARPA site, the objective of the MINC program is to ensure that critical data finds a path to the right user at the right time in highly contested, highly dynamic communication environments using secure control of any available communication or networking resources (communications, compute or storage capabilities). Full Details
Marcus W. Orr Center for the Humanities announces fellowships
The Marcus W. Orr Center for the Humanities (MOCH) is pleased to announce the 2024 Catherine and Charles Freeburg Fellows. Four faculty members and one graduate student at the University of Memphis have been recognized for their promising research in the humanities. The program is made available by a generous bequest from Catherine and Charles Freeburg, longtime supporters of the UofM. List of Fellowship Recipients
Dasgupta & Parish Receive Fulbright U.S. Scholar Awards for 2023-24
The University of Memphis is pleased to announce that Drs. Dipankar Dasgupta, William Hill Professor in Cyber Security, Director, Center for Information Assurance, Director, Intelligent Security Systems Research Laboratory and Ryan Parish, Associate Professor of Archaeology have received Fulbright U.S. Scholar Program awards in Computer Science to Iceland for a semester and in Archaeology to Chile, respectively, during the 2023-24 academic year from the U.S. Department of State and the Fulbright Foreign Scholarship Board. Learn more
2023 Hooks Institute Policy Papers: Unveiling the Impact of AI and Automation on Marginalized Communities
We are excited to introduce the 2023 Hooks Institute Policy Papers, a collection that delves deep into the far-reaching effects of AI and automation on marginalized communities. Titled "The Promise and Peril: Unpacking the Impact of AI and Automation on Marginalized Communities," these papers shed light on three critical areas, providing invaluable insights for policymakers, researchers, and industry leaders. Hooks Institute Policy Papers
CAS Participates in the Conversation
From Anthropology to World Languages, Earth Sciences to Social Work, History to Psychology, and more, the College of Arts & Sciences faculty and researchers engage readers in a wide range of topics. The Conversation (theconversation.com) is a nonprofit, independent news organization dedicated to promoting better understanding of current affairs and complex issues. A team from The Conversation will be visiting the UofM on March 15 and 16. 𝐃𝐑𝐒. 𝐊𝐄𝐑𝐈 𝐁𝐑𝐎𝐍𝐃𝐎 and 𝐑𝐎𝐆𝐄𝐑 𝐊𝐑𝐄𝐔𝐙 will coordinate meeting times for 25 CAS faculty members on those days. View a list of articles written by UofM faculty
Hooks Institute and Leadership Fayette to Host Robert Hamburger, Author of 'Our Portion of Hell'
Feb: The Benjamin L. Hooks Institute for Social Change and Leadership Fayette will host a book signing with Robert Hamburger, author of the Fayette County Civil Rights Movement Book "Our Portion of Hell: Fayette County, Tennessee: An Oral History of the Struggle for Civil Rights" at 2 p.m. on Feb. 25 at the Fayette County Public Schools Central Administration Building. In addition to the book signing, Hamburger and Daphene McFerren, Hooks Institute executive director and daughter of Fayette County Civil Rights Activists John and Viola McFerren, will speak at the event.
---
UofM's Dr. Francisco Muller-Sanchez & ALMA Scientists Find Pair of Black Holes Dining Together in Nearby Galaxy Merger
Jan: While studying a nearby pair of merging galaxies using the Atacama Large Millimeter/submillimeter Array (ALMA) — an international observatory co-operated by the U.S. National Science Foundation's National Radio Astronomy Observatory (NRAO) — the University of Memphis' Dr. Francisco Muller-Sanchez and other scientists discovered two supermassive black holes growing simultaneously near the center of the newly coalescing galaxy.
---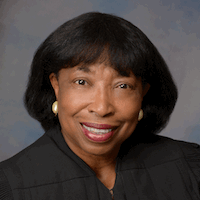 UofM's Hooks Institute Welcomes the Hon. Bernice Donald, Rami Lotay and Robert Shorty to its Board
The Benjamin L. Hooks Institute for Social Change welcomes esteemed community leaders the Honorable Bernice Donald, Rami Lotay and Robert Shorty to its board. The Hooks Advisory Board works with the leadership of the Hooks Institute in the strategic development and implementation of its mission and programs. Members have included community activists, attorneys, engineers, corporate, public relations officials and clergy.
Read about the board members >
---
Why Aren't All Black Bears Black? Research by UofM Professor Emily Puckett, PhD, Helps Find Answers
Dec: Emily Puckett, PhD, an Assistant Professor of Biological Sciences at the University of Memphis, has devoted her career to learning more about the evolution and genetics of bears. With help from partners in state, provincial, and federal wildlife agencies, she collected hundreds of DNA and hair samples from North American bears. She teamed up with Greg Barsh, MD, PhD, Faculty Investigator at HudsonAlpha, and animal pigmentation expert to figure out why black bears aren't always black.
---
National Academy of Inventors Fellow
Dec: Dr. Dipankar Dasgupta, Hill Professor in Cybersecurity and Director of the Center for Information Assurance, for being named as a prestigious National Academy of Inventors Fellow for the Class of 2022. The program highlights academic inventors who have demonstrated a prolific spirit of innovation in creating or facilitating outstanding inventions that make a tangible impact on quality of life, economic development and the welfare of society.
Read the full media release
---
Harriet R. Mongomery Service Excellence Award
Glynda Luttman, the Administrative Associate for the Department of World Languages and Literatures, is the December 2022 recipient of the Harriet R. Montgomery Service Excellence Award. The University award celebrates staff members who consistently demonstrate a commitment to the highest levels of customer service excellence.
Ed Bruner Book Prize
Nov: Dr. Keri Brondo's book, Voluntourism and Multispecies Collaboration: Life, Death, and Conservation in the Mesoamerican Barrier Reef has been awarded the Ed Bruner Book Prize. The committee noted: "This is a remarkable book that moves beyond the study of human tourism on the island of Utila (Honduras) to examine how other species exhibit/display/articulate alternative values to life and death. ..."
Suicide Prevention for at-risk Servicemembers
The University of Memphis has been awarded funding for the study "Use of a Brief Cognitive Behavioral Digital Therapeutic in Primary Care to Reduce Suicide Risk in a Military Population (at Fort Carson, Colorado)." This is a coordinated effort and partnership project housed at The Ohio State University; the overall effort includes five separate studies targeting reducing suicide risk in active-duty military servicemembers. The PI for the $2.2M University of Memphis project is Dr. M. David Rudd, Distinguished Professor of Psychology; the overall fund effort is $8.5M.
Assistant Professor Paper Featured in The Conversation
Nov: A paper by Dr. Stephen Kofi Diko was recently featured in an article published in The Conversation. The paper titled, "Obscured Innovations? Inventiveness in Collective Infrastructure Management in Accra, Ghana," argues that the solutions these residents come up with to make everyday urban life livable are a form of social innovation. Dr. Diko is an Assistant Professor in the Department of City and Regional Planning in the School of Urban Affairs and Public Policy (SUAPP). Read the Article
Career Milestone 2022 Awards Ceremony
Nov: The UofM hosted its annual Career Milestone Awards Ceremony on Nov. 15. Dr. Charles Crawford was recognized with the Lifetime Achievement Award for his 60 years of employment at the University. A professor in the Department of History, Crawford came to the UofM in 1962. He has served as the director of the University's Oral History Project since 1967. Full List of CAS Awards
Highlighting Faculty Authored Books (FAB)
Oct: Dr. George Anastassiou, Professor in the Department of Mathematical Sciences, presented a copy of his recent book, "Banach Space Valued Neural Network" to Interim Dean Gary Emmert. The book will be displayed on the Faculty Authored Books shelf (FAB) located in the Scates Hall dean's office. Anastassiou's research interests include computational analysis, approximation theory, probability, and theory of moments. He is also the Editor in chief of several journals and websites. For more information on Dr. Anastassiou, please visit his faculty profile.
12th Annual Mid-South Cybersecurity Summit
Nov: The 12th Annual Mid-South Cybersecurity Summit, organized by the Center for Information Assurance at the University of Memphis, will be held Nov. 4 from 9 a.m.-3 p.m. at the FedEx Institute of Technology (Fishbowl, 203) on the UofM campus. The summit aims to provide a platform for companies and institutions in the Mid-South to learn, discuss and exchange knowledge and technologies about cyber security. The theme of the 2022 summit is "When AI Meets Cybersecurity." Learn More
Tutankhamun Centennial Celebration Lecture Series
Nov: Join Dr. Peter Brand on the centenary of the discovery of Tutankhamun's tomb in 1922, as he explores Tutankhamun's journey into the afterlife through his spectacular burial treasures: golden coffins, gold death mask, jewelry, and other sacred objects placed on and around his mummy to ensure his body's preservation and his spirit's rebirth in the Egyptian Underworld. The event is on Nov. 4th | Pre-Lecture Reception: 6:30 PM | Lecture: 7 PM | UC Fountain View Room 350. FREE & OPEN TO THE PUBLIC - View the Poster
The Benjamin L. Hooks Institute for Social Change at the University of Memphis has selected "Soul City: Race, Equality, and the Lost Dream of an American Utopia" by Thomas Healy, Esq., (Metropolitan Books) as the 2021 Hooks National Book Award winner.
Department of History Sesquicentennial Lecture
Dr. Cécile Fromont, Yale University presents the "Images on a Mission in Early Modern Kongo and Angola." The event will be held on Thurs, Sept 29 with a reception at 5:30 pm and lecture at 6 pm. Location: McWerther Library Second Floor Commons. Livestream via Zoom: Register by clicking here. This event is jointly sponsored by the Department of History and the Marcus W. Orr Center for the Humanities.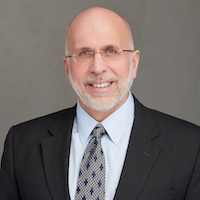 The University of Memphis Institute for Gambling Education and Research (T.I.G.E.R.) received a $1.2 million grant from the Tennessee Department of Mental Health and Substance Abuse Services (MHSAS) to expand gambling research and treatment services for all Tennesseans. Read about the grant


The Benjamin L. Hooks Institute for Social Change at the University of Memphis and WKNO-TV (Memphis) will host a special preview of the upcoming four-part Henry Louis Gates Jr. PBS documentary series "Making Black America: Through the Grapevine" at 6 p.m. on Sept. 26 at the Benjamin L. Hooks Central Library in Meeting Room A. The screening will feature select scenes from each episode before the series premiere on WKNO on Oct. 4. The event is free and open to the public. About the documentary series
ARCHIVED INFORMATION AND EVENTS
iCODE: Adaptive Training of Students' Code Comprehension Processes
The UofM has been selected to receive funding in the amount of $1,999,595 DR. VASILE RUS, Jack and Jane Morris Professor, is PI for the project in an anticipated timeframe of 3 years. The project combines design-based research with randomized controlled trials supporting CS majors, non-CS majors, and students from underrepresented groups (females, students of color, first generation status) to engage in code comprehension activities. More Details
English Faculty Member Selected to study and collaborate with humanities experts
DR. CHRISTOPHER ALLAN BLACK has been selected as a National Endowment for the Humanities (NEH) Summer Scholar from a national applicant pool to attend "Transcendentalism and Social Reform: Activism and Community Engagement in the Age of Thoreau."
More Information
NIH Funds Murphy's Research Meant to Enhance Opioid Treatment
DR. JAMES MURPHY, professor in the Department of Psychology, will serve as Principal Investigator on a subaward from the University of Tennessee Health Science Center (UTHSC) on an NIH funded R33 award with Dr. Karen Derefinko, associate professor in the Department of Preventive Medicine, as the UTHSC Principal Investigator.
Learn More
NSF Funds Pollard with ERI Award
DR. SHAWN POLLARD, assistant professor in the department of physic and material science, was recently awarded an engineering research initiation (ERI) grant from the National Science Foundation (NSF). Pollard's award for $195,490, entitled "Compositionally modulated ferrimagnets for spin-orbitronic devices."
Full Details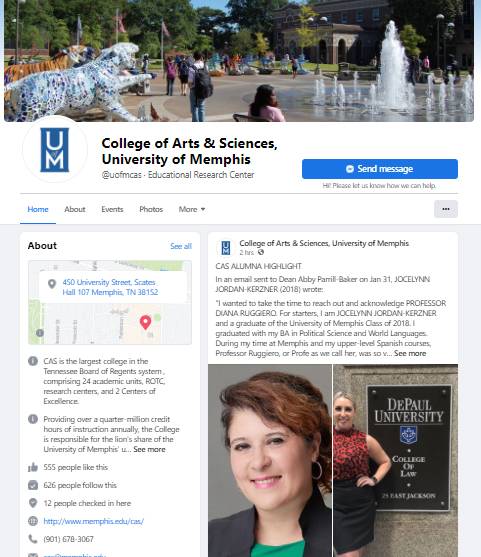 The ABCs of CAS
Tuesday, Feb. 3 - The College of Arts & Sciences has initiated a social media campaign called, "The ABCs of CAS". The campaign will present information on all departments and institutes within the college during the spring 2022 semester beginning with the African and African American Studies and ending with World Languages and Literatures. The posts will be presented on the college Facebook (https://www.facebook.com/uofmcas), Twitter (https://www.twitter.com/uofmcas) and Instagram (https://www.instagram.com/uofmcas) social media platforms. One of the main goals is to increase the interaction and engagement between students, faculty, alumni, donors, staff and community.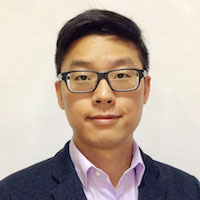 UofM Receives $3.8M Cybersecurity Education Grant from National Science Foundation
Tuesday, Feb. 1 - The University of Memphis DEPARTMENT OF COMPUTER SCIENCE has received a $3.8 million grant from the U.S. National Science Foundation to address the growing national demand for cybersecurity professionals. The five-year project, titled "CyberCorps Scholarship for Service: Developing the Cybersecurity Workforce in West Tennessee, Mississippi and Arkansas" will recruit four cohorts of scholars from the Department of Computer Science, Department of Business Information Technology, College of Engineering, Department of Criminal Justice and other UofM units.
---

UofM's Hooks Institute to Host Pulitzer Prize Winner Marcia Chatelain for National Book Award Lecture
Monday, Jan 31 - The Benjamin L. Hooks Institute for Social Change at the University of Memphis will host Marcia Chatelain, winner of the 2020 Hooks National Book Award for her work "Franchise: The Golden Arches in Black America," on Tuesday, Feb. 8, at 6 p.m. The event will be livestreamed on the Hooks Institute's Facebook page.