Fine Arts, Humanities & Social Sciences Support Pilot Program
To encourage scholarship and growth of externally funded research in the areas of fine arts, humanities, and social sciences, the Division of Research and Innovation has created a pilot support program to fund five categories of costs associated with research. Based on the success of this program, future funding will be considered. The specific programs are outlined below: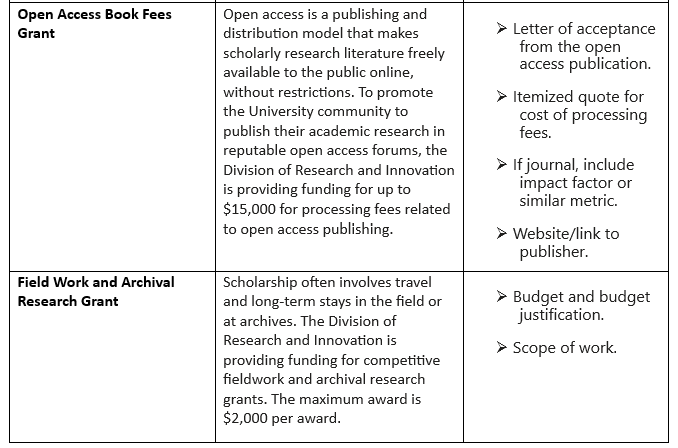 Eligibility
Applicants must be tenured or tenure track faculty whose research and scholarly expertise aligns with fine arts, humanities, or social sciences. The Subvention Grants are limited to pre-tenured faculty. You may only apply for one category of funding at a time. Textbooks are not eligible.
Application Guidelines
All applicants are required to submit the following:
CV (maximum of 5 pages)
Summary of individual financial accounts (including any carry forward)
Please submit any additional requirements as listed for the specific program to which you are applying. All materials should be submitted as a single PDF. All funds must be spent by June 20.
Review Criteria
Applications will be reviewed for recommendation by an interdisciplinary faculty committee; final decisions will be made by the Executive Vice President for Research. Conservative budgets are encouraged.
Deadline for Submission: March 20, 5:00 P.M.
Submit applications to Teresa Franklin at teresa.franklin@memphis.edu
For questions regarding the program, email Teresa Franklin at teresa.franklin@memphis.edu.