Composition
---
Develop your voice and discover techniques for composing for orchestra, voice, and chamber ensembles through contemporary, jazz, and film music genres.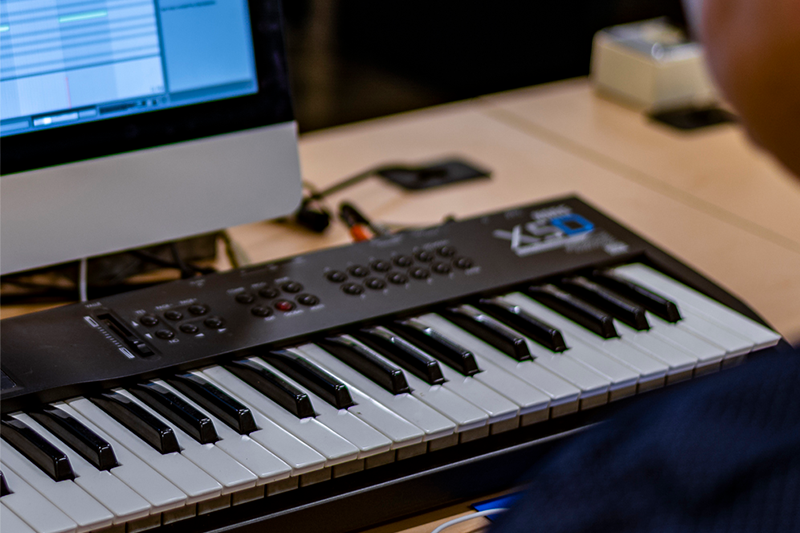 Program Description
Scheidt School of Music offers Bachelors (BM), Masters (MM) and Doctorate (DMA) degrees in Composition. All composition classes from bachelor's to Doctorate levels are once a week individual lessons. Considered a part of every composition class is a weekly seminar with all the composition students in attendance, where new concert works are heard, and aesthetic and technical issues are discussed that concerns the past fifty years.
Composition students enjoy the opportunity of having their works performed by our major ensembles, including the University of Memphis Symphony Orchestra, Wind Ensemble, University Singers, and Contemporary Chamber Players. Our Composition division traditionally hosts two national/international guest composers each year.
We offer a full array of undergraduate and graduate level music theory courses, from the standard four-semester undergraduate sequence to upper division analysis courses, to graduate courses covering all aspects of analytical processes and specialty composer-oriented analysis courses.
Meet the faculty members that students study, collaborate and create with while earning their degree.
Degrees Offered
Bachelor of Music: Composition Concentration
Bachelor of Music: Jazz and Studio Composition/Arranging Concentration
Master of Music
MM-to-DMA
Doctor of Musical Arts
To be admitted, students must complete an application for the University of Memphis at-large, a SECOND application to the School of Music, and an audition.
To receive general School of Music acceptance and approval to move forward in the Composition Major track, applicants must accomplish the following:
Audition and be acceptance by applied faculty on an instrument or voice.
Submit a portfolio containing samples of your composed works (If available).
Attend an interview/portfolio review session with Composition Faculty on an Audition Day.
Audition requirements vary by degree (BM, MM, DMA) and by instrument. Consult the Audition Requirements page for more information.
Composition Candidacy Requirements
Students who receive approval to move forward in the Composition Major track must also complete several candidacy courses during their first year. Candidacy leads to full acceptance to the Composition degree program.
Complete Music Theory I with a C- or better
Complete Ear-training I with a C- or better
Complete Class Piano I with a C- or better
Complete Beginning Composition (MUTC 2501)
Be recommended for acceptance into MUTC 2502 by the Composition faculty
Until an applicant has achieved the above, he or she is not considered to be fully accepted into the Composition program.
Undergraduate degree plans:
Graduate degree plans:
The School of Music offers an accelerated track for MM-DMA students wishing to complete both degrees in the same concentration. Learn more about the MM-DMA accelerated track.